There's A New Way To Tag Your Friends In Instagram Stories & Here's What It Looks Like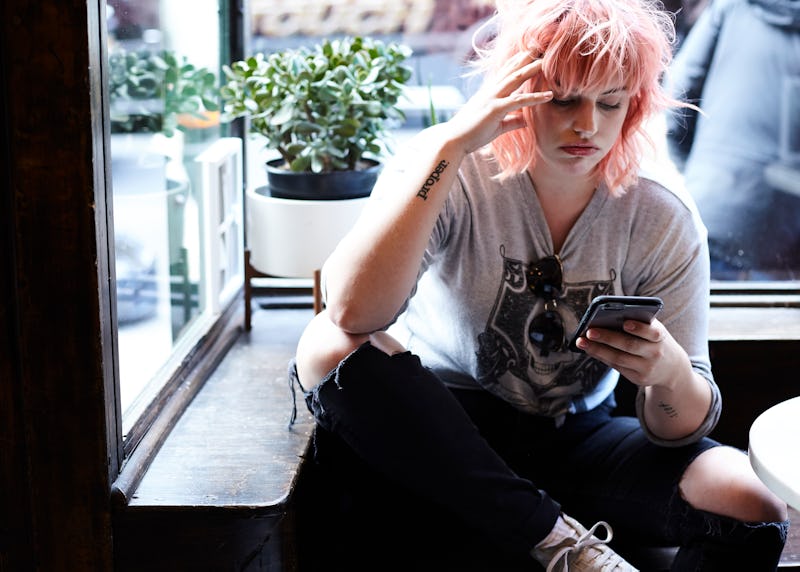 Hannah Burton/Bustle
Since Instagram launched Stories, they've been rolling out tons of new ways to make the feature even more fun. Now, the social media platform has launched @mention stickers on iOS, and here's what you need to know to add these little beauties to your Instagram Stories. Releasing alongside the new Focus camera format — for taking gorgeous, high quality, and deeply 'grammable portraits and videos of yourself and your favorite people — the new @mention stickers are a snazzy new way to tag and connect with your network on Instagram. If you want to overlay cute images, tags, and hashtags onto your pics, the new @mentions are a totally clever and fun way to add interest to your Insta Stories.
Using the new @mentions is super simple — once you've snapped your photo or video in your stories camera, and you're ready to post, open the stickers tray, tap the @mention sticker, start typing the name of the account you want to tag, and choose from the available options that appear. You can then scale, rotate, move, or place your sticker anywhere you want it. How cool is that?
Lest you skip off to boot up Instagram with no new stickers in sight, however, let's talk about ways to troubleshoot any problems you might run into if the new @mentions aren't showing up for you.
There are usually a couple of reasons why users run into problems accessing a new Instagram feature, but these are generally an easy fix. New feature roll outs typically require you to have the latest update of the app, so if you haven't installed the most recent version of Instagram yet, you probably won't see the new @mention stickers — so try that first. Also, new features are sometimes made available over a period of days, so not all users will see them right away. If the new feature is introduced gradually, there's not much you can do about that; so sit tight for a few days until the roll out is completed. Also note that while the new Focus feature is accessible for both iOS and Android, the @mention stickers are iOS only.
Here's a gentle reminder as to how to install the most recent version of Instagram on your phone — if it's been a while.
Open Your Blue iPhone App Store
Go to the blue Apple Store app on your iPhone, and tap to open. Remember that @mentions are an iOS only feature — sorry Android users!
Check Your Updates Tab
The updates icon is located on the bottom right corner of the screen once you've opened the Updates tab on your iPhone. Once you tap it, you'll see all the apps on your phone ready for a version update. As of this writing, the newest version of Instgram is 40.0. Once you've opened your pending updates, you can then press update next to the app you'd like to bring up to speed. You can also choose to update all your apps at once — tap the Update All button at the top right corner of your screen in the Updates tab.
Or Search Your App Store For Instagram
You should see your update options via the update tab easily, but you can also do a simple search for Instagram in your App Store — this will take you directly to your Insta app. If there's a new update available, tap "Update" or "Install" to download the new version.
When In Doubt, Restart
In order for updates to take effect, it's sometimes necessary to sign out of the app, and then back in. You can also try deleting the app — then reinstalling it.
Report The Issue As A Last Resort
If all else fails, and you're sure there must be a tech glitch at play, you can always report the issue to Instagram — just make sure the error isn't on your end, and you've really and truly tried everything else first. If you're pretty certain you're encountering a bug issue, go to your Instagram profile, tap the upper right menu button, and tap, "Report a Problem". Then tap "Something Isn't Working", and detail out the issue.
Have fun with the new features, Instagrammers!