Salt-N-Pepa Know Why You're Obsessed With The '90s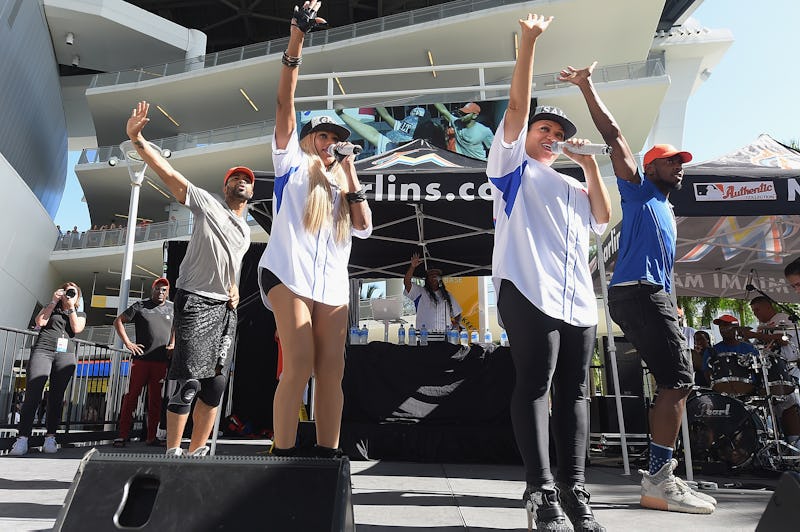 Gustavo Caballero/Getty Images Entertainment/Getty Images
"Here I go, here I go, here I go again. Girls, what's my weakness?" I dare you not to answer the question. Even if you're so over the '90s nostalgia and have successfully resisted the clothes and the many, many reboots, there are some things that are not so easy to ignore, and the music of the decade is one of them. The '90s obsession is real, and Salt-N-Pepa totally understand why people feel so connected to time period — especially when it comes to the classic songs.
"You know what, we weren't surprised," Salt says of '90s nostalgia becoming such a trend. She, Pepa, and DJ Spinderella are standing backstage at Marlin's Park in Miami ahead of their performance as part of the Crystal Pepsi Throwback Tour. (Yep, Crystal Pepsi is back, too.) "We're surprised now the way that it keeps trending. That's the surprise because people just really, really love the '90s to the point that we've been on a I Love The '90s tour going into two years and going into next year."
Salt, whose real name is Cheryl James, continues, "But we get it because the '90s was fun. We were just talking about the fun, the fashion, the dances, the music, you know, '90s music gets a party hoppin' anytime."
Aside from just being fun, going back to what many people view as a simpler time — especially if you were a kid in the '90s and actually had no worries during those years — feels like a necessity in 2017. "It was just really a happier time," Pepa, aka Sandra Denton, says.
Spinderella (real name: Deidra Roper) adds, "And I think the whole '90s thing, especially the concerts we're putting on, it kind of brings people together and allows them to leave their problems, you know, at the door and really enjoy a nostalgic experience."
But the '90s aren't nostalgic in the same way for everyone. While Salt-N-Pepa were at the peak of their careers early on in the decade, their children were just being born, meaning they got to learn about their mothers' double lives as they got older.
Salt says that while her daughter grew up with Salt-N-Pepa, her son didn't because she was no longer touring. Because of this, her son's first introduction to his mom performing was when he saw the "Shoop" video at age six. "He was like, 'Mom! You better put some clothes on!'" Salt explains. "He was like, 'What is that you're wearing?' That was his first experience of seeing his mom as Salt, like what was that about?"
These days, Salt-N-Pepa's music is showing up in ads and anything else that needs a throwback touch, so their children have plenty of opportunities to freak out over seeing their moms on TV or hearing their music out in the world. "'Ma, your song "Push It" is on or "Whatta Man" is on,'" Pepa says her daughter will text her. "They love it, and my daughter is like 'Go Ma!'"
After Sunday's Marlins game where Salt through out the first pitch, the group performed for fans in the hot Miami sun. It was sweltering outside, but Salt-N-Pepa hardly let it phase them. The crowd still got excited when they performed their classics, they still showed off their '90s dance moves, and while their outfits have changed, they brought out those iconic jackets toward the end of the show.
Like with any trend, no one can know for sure how long the '90s mania is going to last, but one thing is clear: As long as people need an escape, Salt-N-Pepa will give it to them.