Sorry, But 'Game Of Thrones' Won't Be A 2017 Emmy Nominee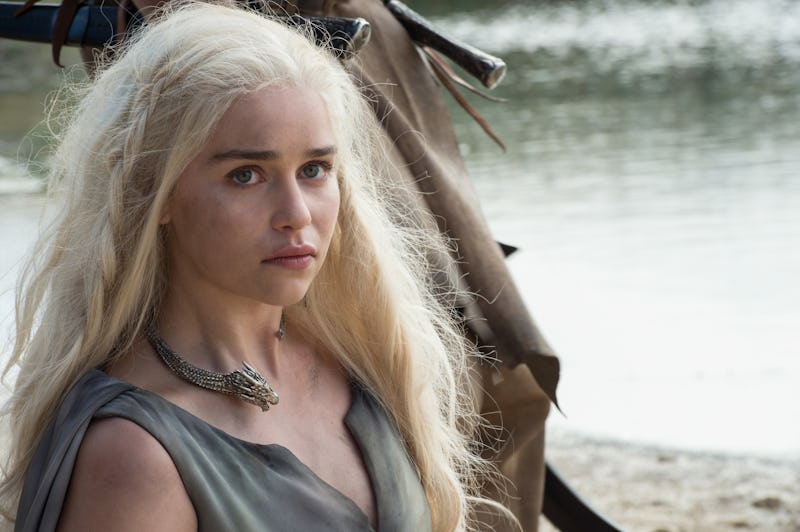 Macall B. Polay/HBO
When looking at the list of 2017 Emmy Awards nominations, there was one show that was surprisingly missing. No, you're not going crazy: Game Of Thrones wasn't up for any Emmys this year. Not one single prize. But the reason why isn't that shocking at all. As it turns out, Game Of Thrones wasn't eligible for the 2017 Emmys, and it has to do with when it premieres.
See, this Emmy voting period ran from June 1, 2016 to May 31, 2017. Now, Season 7 of Game Of Thrones doesn't premiere until Sunday, July 16. Since we all know how the Gregorian calendar works, you know that GOT misses the Emmy's May 31 cutoff by nearly two months. But what about Season 6? While it aired some episodes within the eligibility period, the "hanging episodes" rule means that the whole season was counted for 2016, when most of the episodes aired. All of which means fans will have to miss hearing the HBO show's name being called this time around.
Don't worry too much though. While Game of Thrones will not win any awards this year, Season 7 is eligible to be nominated at the 2018 Emmy Awards, and no one will be surprised if they go back to their winning ways. Last year, Game Of Thrones made Emmy history by becoming the most honored TV show ever. In the show's lifetime, it's managed to win a whopping 38 awards. That's one more than the previous record holder Frasier.
While fans would love to see Game Of Thrones pick up more awards, this year another TV drama will get a chance to shine. For the last two years, GOT has picked up the prize for Outstanding Drama Series, which makes this year a little more exciting. Not only could a new show get nominated, but it's anyone's guess when it comes to who will win on September 17 when this year's Emmys are announced.
Game Of Thrones being out of contention in 2017 also means it frees up some space in those dramatic acting categories. Last year, five actors from the show were nominated for their supporting roles: Emilia Clarke, Kit Harington, Lena Headey, Maisie Williams, and Peter Dinklage, who's been nominated all six seasons for playing Tyrion Lannister. Dinklage has won two statues for Outstanding Supporting Actor In A Drama Series, one as recently as 2015.
While it may be sad to know Game Of Thrones won't be a factor at this year's Emmys, it'll be nice to see someone else take the crown for a change.