Why Is American Apparel Closing?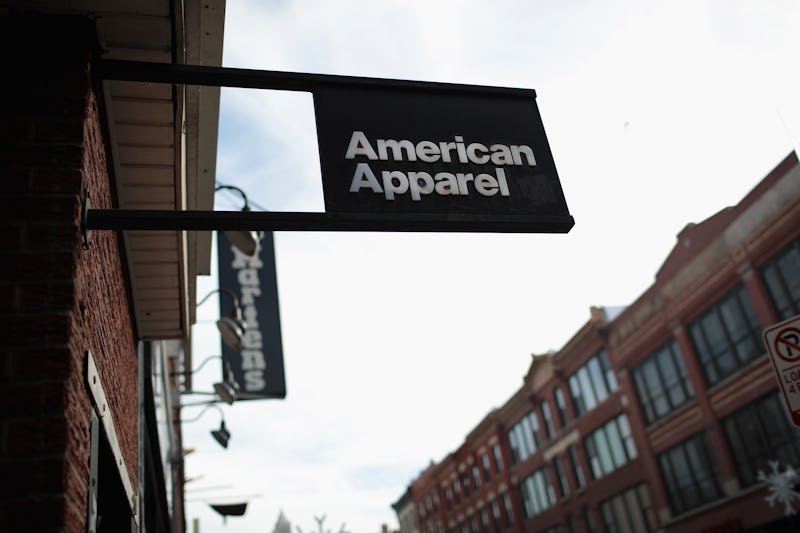 Scott Olson/Getty Images News/Getty Images
It's finally happening: After years of worrying revenue dwindling and other controversy, American Apparel is being dissolved for good. According to multiple sources, the reason why American Apparel stores are closing stems from a long line of financial troubles within the company.
On Jan. 12, a Delaware bankruptcy court approved the $88 million cash sale of American Apparel to Canadian-based brand Gildan Activewear, who, according to Nylon, bought the clothing giant's "intellectual property and manufacturing equipment, as well as its purchase orders and inventory for another $15 million."
That means Gildan acquired some of American Apparel's means of producing, as well as a chunk of its products — but it didn't buy out the company's factory leases, its L.A. headquarters, nor the 110 American Apparel stores currently open in the U.S., though the stores were also available for purchase.
Without a buyer, the stores will likely be liquidated, following in the footsteps of some of the company's least profitable stores, which have already been shuttered to recoup cash. Bustle has reached out to an American Apparel representative for comment on the closures, but has not heard back.
American Apparel filed for bankruptcy in 2015, but seemingly recovered by February 2016 after losing $200 million in debt and touting a recovery plan. However, the company couldn't raise enough money to implement the plan, and filed for Chapter 11 bankruptcy again in November 2016, according to Bloomberg.
Gildan's deal is the conclusion of American Apparel's long road in court, and its long downslope in sales, the LA Times reported.
Basically: The sale of the company was inevitable, and it's only by liquidating its remaining assets and selling off the valuable parts of the company that what was once American Apparel can walk away from this.
Unfortunately, it's not apparent at this time how or even if Gildan will accommodate any of the thousands of employees affected by American Apparel's closing.
American Apparel operated the largest sewing factory in North America, with more than 4,500 employees. One manufacturing facility, located in Garden Grove, CA, has already been sold to textile manufacturer Broncs Inc., for $200,000 to $250,000. Broncs Inc.
Joel Chun, who owns Broncs, told The L.A. Times he plans to hire about 200 of the 330 American Apparel employees who worked at the facility.
The fate of the rest of the stores — and the rest of American Apparel's employees remains to be seen. Given the background on American Apparel's financial situation, it seems as if this outcome was inevitable.