Amy Schumer's March Outfit Is Out Of This World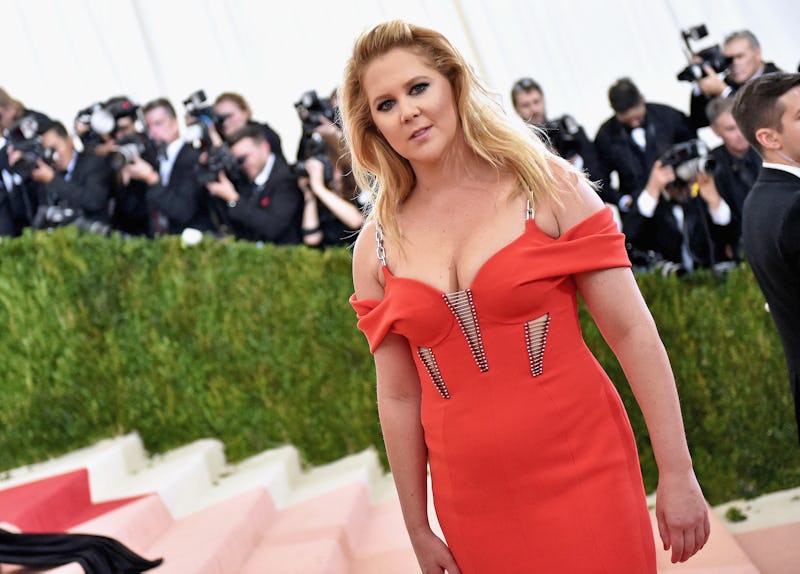 Mike Coppola/Getty Images Entertainment/Getty Images
Just one day after Donald Trump's inauguration, people all over the world are uniting, thanks to the Women's March on Washington D.C. on Jan. 21. The event has spawned a plethora of sister marches, with individuals protesting against several of Trump's policies, including access to abortion and birth control. The marches attempt to give people a voice in the wake of the new presidency, and celebrities are out in droves to show their support for the rights of women in the U.S. and worldwide. But why is Amy Schumer wearing a NASA uniform at the Women's March? The comedian appears to have coordinated outfits with a group of friends.
Schumer posted a photo to her Instagram on Saturday of herself and several friends, who were all wearing bright orange NASA uniforms. Her caption said, "March like everyone's watching," and the actor is obviously ready to send a message to the world. But this isn't the first time that Schumer has worn her NASA outfit. On Friday, the Trainwreck star posted a clip to her Instagram account of her interview with astrophysicist Neil deGrasse Tyson and, you guessed it, she was wearing the very same uniform in the clip. So, what does this all mean?
When asked by deGrasse Tyson why she'd worn a NASA uniform to their interview, Schumer said that she wanted to dress for any eventuality, especially having seen Arrival, in which Amy Adams doesn't realize what she's about to get herself into. Even though that doesn't really explain why Schumer is wearing the outfit, it's unsurprising that the she'd turn up to the Women's March in costume.
Schumer's outfit may be a reference to Trump's desire to change NASA's direction. At a rally in Florida in Oct. 2016, Trump reportedly said of NASA, "We will refocus its mission on space exploration. Under a Trump Administration, Florida and America will lead the way into the stars." The president has also expressed his desire to concentrate on NASA's space exploration, rather than its Earth Science. Speaking to Space News in Oct. 2016, Trump's advisors said, "NASA should be focused primarily on deep-space activities rather than Earth-centric work that is better handled by other agencies." The president's views on climate change have been well documented.
Above all, Schumer's outfit can be a reminder that women weren't always allowed to become astronauts. By standing up for the rights of women everywhere, and the careers they're more than capable of accomplishing, Schumer is showing that standing against Trump makes us stronger, and the equality is possible.