Here's Why Crazy Eyes Is In The Hospital In 'OITNB' S5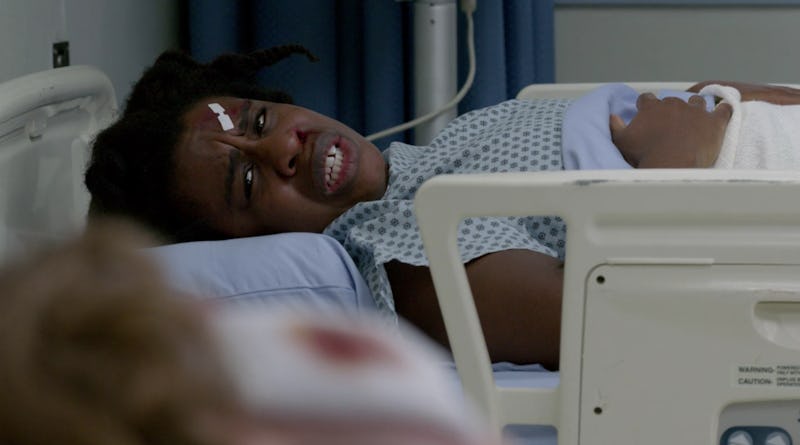 Netflix
It's been nearly a year since Orange Is the New Black fans last saw the women of Litchfied Penitentiary, and understandably, some details may be fuzzy. One character, in particular, was absent from the chaotic riot that concluded the Season 4 finale, and when the show returns on June 9, viewers may need a refresher on why Suzanne "Crazy Eyes" Warren is in the hospital.
The shortest (and most obvious) explanation is that she's recuperating from an injury, though there's a larger story as to how, exactly, she ended up there. During a peaceful protest in Season 4's penultimate episode, "The Animals," Suzanne became violent after recalling how the guards provoked her into brutally beating her ex-girlfriend, Maureen. Baxter Bailey, one of the correctional officers, restrains her, but Poussey Washington steps in to offer help and calm her down. Bailey then tackles her to the ground and leans his weight on her as he tries to fend off Suzanne. Eventually, Poussey is suffocated and dies.
Guilt-stricken and devastated, Suzanne sets out to find a way to feel what it's like to not be able to breathe, just as Poussey had in her final moments. She first covers herself with a pile of books — many of them culled from Poussey's personal stash — but Taystee quickly pulls them off. "Cut it out. That ain't happening," she says. Later, while Soso — Poussey's girlfriend — is drinking outside, she hears a crash from the library, where she discovers Suzanne has toppled an entire bookshelf onto herself. She goes to get help, and Suzanne is subsequently wheeled to the medical ward, where she's placed in the bed next to Maureen.
Meanwhile, the other inmates incite an uprising against the guards that ends on an adrenaline-packed cliffhanger: after Humphrey drops his gun, Daya grabs it and threatens him, which is where Season 5 will pick up.
Based on the trailer, Suzanne will still be in the hospital when Orange Is The New Black returns, though she seems to have mended fences with Maureen; She's pictured helping her down a hallway, hand in hand. Elsewhere, she's shown leading some kind of séance, assumedly to contact Poussey. "Mighty spirit, we are ready to receive you," she intones amid a dim-lit circle. It's a little out there, even for Suzanne, but it does confirm that she's physically fine and well-healed.
What the rest of her Season 5 storyline will entail is yet to be determined, but it's clear many of the inmates are still working through their grief while attempting to push back against the prison system's faulty conditions and get justice for Poussey. And once Suzanne is back on her feet, she'll probably join the resistance, too.