The Reason Why Trump & The Queen Are Meeting Is Actually Pretty Simple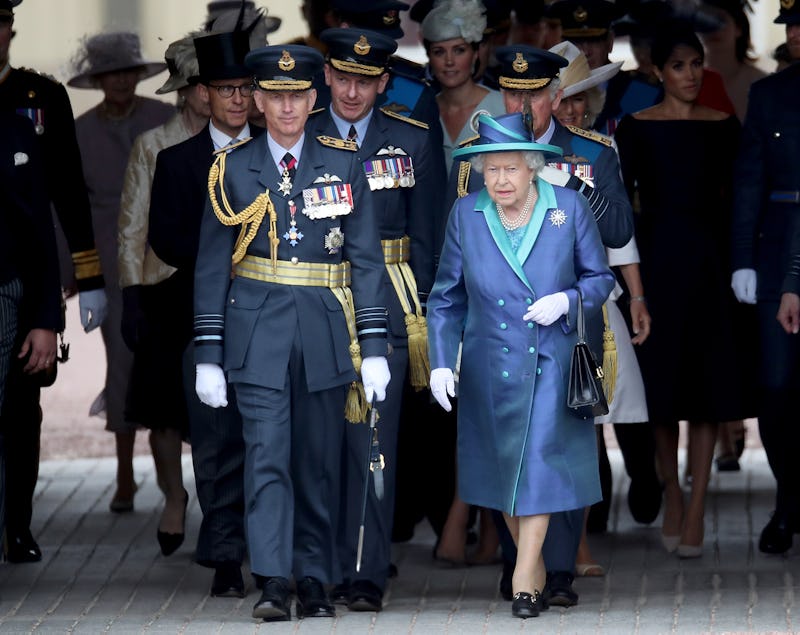 Chris Jackson/Getty Images Entertainment/Getty Images
President Donald Trump and First Lady Melania Trump are scheduled to meet the United Kingdom's Queen Elizabeth II on Friday, a day after the Trumps touched down in Air Force One for a "working visit." But why exactly is Trump meeting the Queen in the first place? According to the U.S. ambassador to the UK, meeting Her Majesty is "job one."
"Meeting Her Majesty is the most important thing, because she's the head of state," ambassador Robert Wood Johnson told Sky News. "From then on, it'll be what the president wants to do."
On Friday, the president will visit Windsor Castle, where a guard of honor will give a Royal Salute, followed by the U.S. national anthem. Then Trump and the 92-year-old Queen Elizabeth will "inspect the guard of honor," Vanity Fair reports, before the military walks past. Finally, the ceremonious entrance will lead the Trumps and the Queen to tea within the castle.
Trump and the first lady arrived at the London Stansted Airport Thursday, with the visit with Queen Elizabeth scheduled for Friday. Trump must meet with the Queen for the sake of tradition, if anything — the British royal has met nearly every U.S. president since Dwight Eisenhower, TIME reports. Only Lyndon Johnson never met Her Majesty. Vanity Fair reports that the Queen even rode horses with Ronald Reagan in 1982, a favorite pastime of hers.
While the Royal Family's website says, "There are no obligatory codes of behaviour when meeting The Queen or a member of the Royal Family," they do outline some guidelines that visitors are expected to adhere to.
Touching is not customary, so hopefully Trump can avoid his all-too-common awkward handshakes (actually ranked by Vanity Fair last year). If there will be a handshake, it's customary to wait for the Queen to offer her hand first.
If going the more traditional method, men are to bow from the head only, "whilst women do a small curtsy," the Royal Family website states. The guidelines also remind visitors that "Ma'am" is pronounced "with a short 'a,' as in "jam."
There are a lot of rules to remember, but The Independent reports that the royal family is more relaxed than they used to be when it comes to official protocol, giving Trump some flexibility to manage the meticulous customs.
Trump and Melania kicked off their UK trip by meeting Prime Minister Theresa May at Blenheim Palace, the 18th-century childhood home of Winston Churchill, for dinner Thursday evening. After a performance by the bandsmen of the Scots, Irish, and Welsh guards, cabinet members and business leaders joined them for a meal of "Scottish salmon, Hereford beef fillet, and strawberries with clotted cream ice-cream," BBC reports.
Trump was scheduled to visit England last January, but cancelled the trip when there were threats of protest. He says the decision was made over an upset about the relocation of a U.S. embassy.
"Reason I canceled my trip to London is that I am not a big fan of the Obama Administration having sold perhaps the best located and finest embassy in London for "peanuts,'" Trump wrote on twitter last January.
This reasoning falsely claims Obama moved the embassy, when in fact it was the Bush administration who began the relocation in 2008, NBC News reports.
London mayor Sadiq Khan guessed at an alternative reason Trump may have canceled his trip. In January, Khan tweeted, "Many Londoners have made it clear that Donald Trump is not welcome here while he is pursuing such a divisive agenda. It seems he's finally got that message."
Trump is following through on his visit this time, but the protesters haven't backed off. A giant Trump baby balloon has been given permission to fly over central London during Trump's visit, BBC reports. Trump told the Sun he'll simply avoid the capitol city: "when they make you feel unwelcome, why would I stay there?" he said.
After his visits to Windsor Castle, Blenheim Palace, and Chequers, President Trump is scheduled to play golf at the Turnberry golf course in Scotland on Saturday. The giant Trump baby balloon, however, is not invited.