Sorry, Beyonce Fans — Here's Why You Didn't See The Singer At The VMAs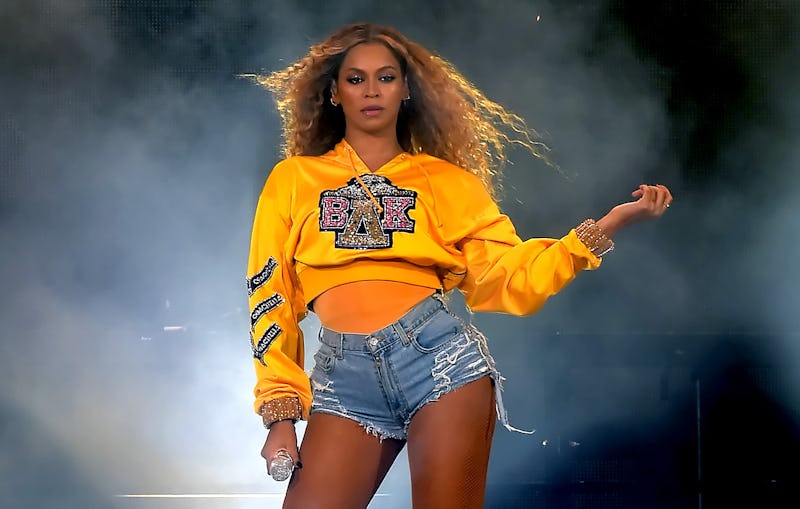 Kevin Winter/Getty Images Entertainment/Getty Images
One of music's biggest nights is here, and naturally, fans will have their eye out for the Queen Bey. But why isn't Beyonce at the 2018 Video Music Awards on Monday, Aug. 20? Bey and her husband JAY-Z have a handful of the nomination categories this year, but they have also been busy performing their "On The Run II" tour for most of this year. And now VMAs night has arrived — with no sign of Bey and Hov on the red carpet or throughout the awards show.
Fans had a lot to look forward to with this year's show, including Cardi B's mysterious VMAs opening as well as MTV's tribute to late icon Aretha Franklin. And although Beyonce is always a showstopper, especially at the VMAs (let's not forget her epic 2014 performance accepting the Video Vanguard Award or her Lemonade medley at the 2016 VMAs), the singer is currently on tour with JAY-Z.
The night before the VMAs, rapper Logic posted a tweet, saying Bey and Jay popped into the restaurant he was at. His Instagram story documented his night out on the town, but failed to mention what city he was in — and if it happened to be near Radio City in New York, where the VMAs are taking place. Logic, however, gave a memorable political and emotional performance at the VMAs.
Meanwhile, Bey and JAY-Z are still in the middle of their The On the Run II Tour, which started on June 6 and continues until October 4. Two days before the 2018 VMAs, their tour has a stop in Buffalo, N.Y. and three days after, the two will perform in Nashville, Tenn., according to the official schedule. They're most certainly seeing crowds going wild, just unfortunately, it won't happen at the VMAs this year.
Beyonce and JAY-Z got a ton of VMA nominations this year for their "Apesh*t" video, which dropped on June 16, along with their surprise album Everything Is Love. The video's VMA nominations include Video of the Year, Best Collaboration, Best Hip Hop Video, and Best Cinematography. Their team also received nominations for the video in categories including Best Direction, Best Art Direction, Best Choreography, and Best Editing.
Although the Beyhive may be disappointed to miss out on having Beyonce at the show this year, the artist still deserves so much credit. Just one year after giving birth to her twins Rumi and Sur, Beyonce gave a legendary Coachella performance at the 2018 festival. The 26-song set was so huge, it even has its own Wikipedia page. Shortly after, Bey and Jay hit the road once again.
However, Bey or JAY-Z did win for Best Cinematography and Best Art Direction for their music video for "Apesh*t," which was filmed at the famous Louvre in Paris, France. And fans can definitely see Beyoncé and JAY-Z as they continue their "On The Run II" Tour.