Here's What You Should Know About The VMAs' Aretha Franklin Tribute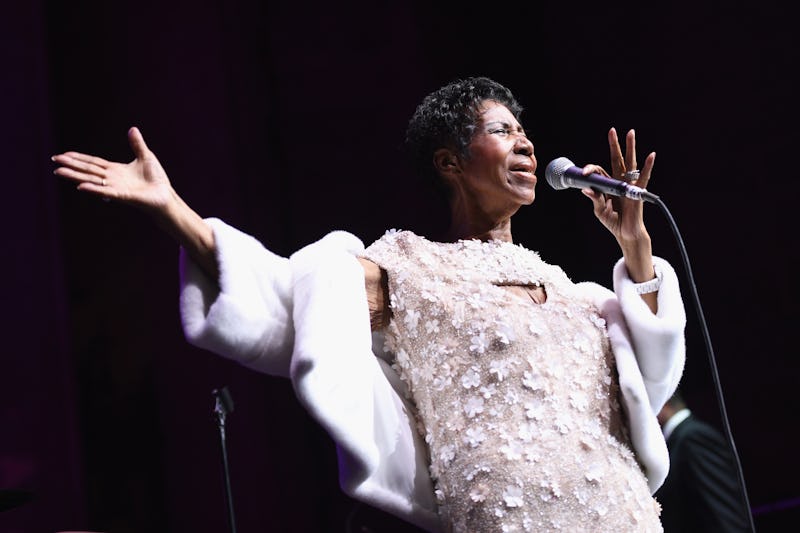 Dimitrios Kambouris/Getty Images Entertainment/Getty Images
The Video Music Awards are just a few days away, but MTV is working hard to pay respect where respect is due. Yes, there will be an Aretha Franklin tribute at the 2018 VMAs, following the Queen of Soul's passing earlier this week. Executive producer Bruce Gillmer confirmed that some sort of tribute to the legendary singer is in the works when talking to Bustle at the award ceremony's press junket at Radio City Music Hall on Friday.
While details regarding who will be involved and what the tribute will entail haven't been completely figured out just yet, Gillmer said something is happening "without question" at Monday night's ceremony. Above all, he emphasized that the network is committed to honoring Franklin's legacy in the most respectful way possible.
"We're putting a lot of energy, we're putting our minds together, we're trying to figure out what to do. We're going to do something. There's no doubt," Gillmer said. "It's just what form that takes, you know, we're trying to balance — we want to be respectful, we want to be honest, and we don't want to be gratuitous."
The VMAs executive producer continued, "We want to get the right people involved. So it's going to take a little bit of shuffling, but something will happen without question."
It goes without saying that Franklin was one of the most legendary and iconic singers in the industry's history. This is also something that Gillmer acknowledged, telling Bustle, "The world lost one of the most incredible voices of all time."
"In this building, we produced two shows with her on the VH1 side, two Divas shows. We worked pretty closely with her," Gillmer said, referencing Radio City Music Hall, as well as Franklin's history with Viacom (the parent company to both MTV and VH1). "It's beyond sad. She made such an indelible mark, left such an incredible legacy behind, and has influenced so many of the young artists. Her voice will live on."
As fans know, Franklin died in her Detroit home at age 76 on Aug. 16 from advanced pancreatic cancer, according to a statement her publicist gave to the Associated Press on behalf of the singer's family. The world is certainly feeling her loss and countless celebrities have expressed their sadness over Franklin's death. Mariah Carey, Jennifer Lopez, Lady Gaga, and Paul McCartney are a few of the many artists who relayed their condolences via social media.
Franklin was a groundbreaking singer, making history as the first woman inducted into the Rock & Roll Hall of Fame in 1987. Throughout her career, which spanned more than 60 years, Franklin won 18 Grammys and had 17 Top 10 US chart hits, including classics like "Respect" and "(You Make Me Feel Like) A Natural Woman," both in 1967.
Last year, Franklin announced her retirement in February 2017 and gave simple yet beautiful parting words. "I feel very, very enriched and satisfied with respect to where my career came from, and where it is now," she told Detroit's WDIV Local 4.
While it remains unclear what and who will be part of the VMAs' tribute to Franklin, there's no doubt it'll be moving, and necessary.
Additional reporting by Celebrity Editor Jamie Primeau.