Here's Why Emily Blunt Isn't In 'Sicario 2' — Despite Starring In The First Movie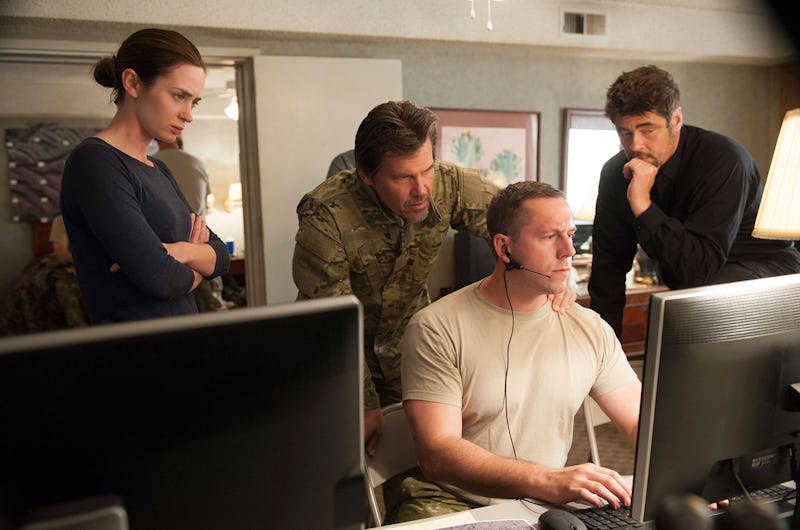 Lionsgate
Sicario was a surprise hit back in 2015, and a big part of the reason why was the film's main star: Emily Blunt. The movie was one of several at the time, along with Edge of Tomorrow and The Huntsman: Winter's War, that established Blunt as one of the biggest action stars on the planet, and her performance in Sicario was especially lauded by critics. Now, a Sicario sequel is on the way with returning stars Benicio del Toro and Josh Brolin, but for some reason, the movie is missing the biggest star from its predecessor. So why isn't Emily Blunt in Sicario 2?
Originally, the plan was for Blunt to reprise her role in the sequel. When the movie was in early development back in March of 2016, producer Trent Luckinbill revealed to The Hollywood Reporter that all three stars of the original film would be returning in screenwriter Taylor Sheridan's new screenplay. "Taylor's a really great world-builder," Luckinbill said. "He's got that kind of modern Western voice, which is in vogue right now. And he did it again [with the sequel]. It's a great big world. We can't reveal the plot, but you'll see [Emily Blunt, Benicio Del Toro, and Josh Brolin] all come back." But by June of that same year, Blunt was no longer in the cards, and it was Sheridan who made the call to remove her.
As it turns out, Sheridan just couldn't find a satisfying way to include Blunt's character Kate in the film's sequel, believing that her journey was concluded perfectly in Sicario. "That was my decision, and at some point I'm going to have to talk to her about it," Sheridan told The Wrap in November of 2016. "Her arc was complete … I couldn't figure out a way to write a character that would do her talent justice ... Look what she went through. It was a difficult role. Here I write this lead character and then I use her as a surrogate for the audience. I make her completely passive against her own will so the audience feels the same impotence that a lot of law enforcement officers feel, I drag her through hell, and betray her in the end. It was an arduous journey for the character, and for Emily. That character had arc."
But just because Blunt is out for Sicario 2, that doesn't mean she couldn't potentially return for another Sicario sequel in the future, provided that the series continues. "I had to tell the story that was true to this role, and I didn't feel like I could create something with that character that would further that world that would do Emily's character justice," he told The Wrap. "That said, there could be room for Kate somewhere else down the road."
Luckinbill also wants Blunt back for Sicario 3, if it happens, telling Cinema Blend, "I think Taylor certainly has some ideas about all of that, but we're open to that world and certainly would love to bring Emily back. We haven't written the script yet, but yeah it would make a lot of sense. We're all fans of the movie, we've all come to the same conclusion, which is 'It would be great to see her again.' So I think we're striking up those conversations now."
While it's certainly disappointing that Blunt isn't in Sicario 2, and doubly so knowing that it wasn't her choice to bow out, fans of the actress will still get plenty of chances to see her soon in other films; namely in a pair of Disney blockbusters. This holiday season, she's portraying one of the most iconic movie characters of all time, Mary Poppins, in the sequel Mary Poppins Returns, and next year she'll be joining Dwayne Johnson in the adventure film Jungle Cruise, which is based on the classic Disneyland ride. Plus, Blunt's already had one huge hit this year, starring in 2018's biggest horror movie, A Quiet Place.
So keep those chins up, Emily Blunt fans, because her star is only going to keep on rising — with or without Sicario.