Here's Why 'Grey's Anatomy' Isn't On Tonight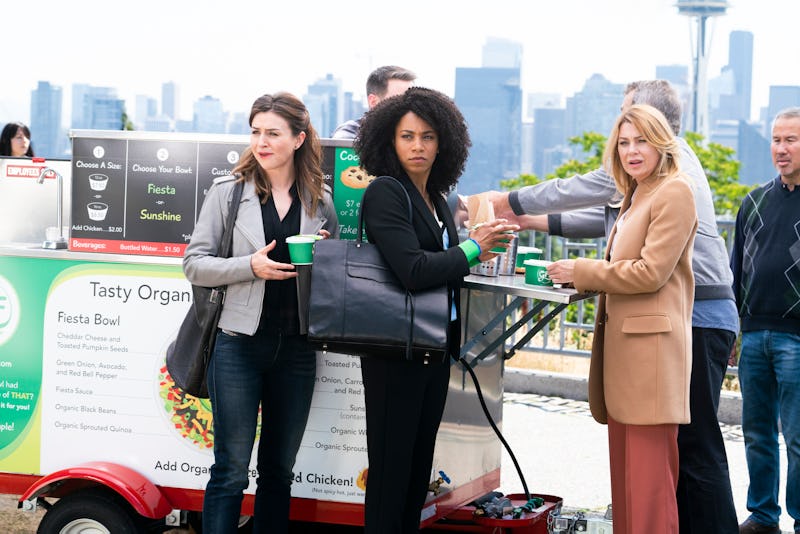 Derek Johnson/ABC
Just when things were really starting to heat up (get it? That's a Station 19 joke), Grey's Anatomy is taking a week off. There will be no new episode on Oct. 18, and if you're cry-screaming, "Why isn't Grey's Anatomy on tonight!?" you're not alone. Perhaps that's a bit dramatic, but it's Grey's. Being dramatic runs in its blood. In any case, no need to fear too much, because all the doctor drama will be back soon.
There doesn't seem to be a specific reason that the show is taking off Oct. 18. There's no presidential address or special programming interrupting things. Both Station 19 and How To Get Away With Murder are airing new episodes. But fans did basically get two episodes just last week with the two-hour Station 19 crossover on Oct. 11. and a two hour premiere back in September. Perhaps Shonda Rhimes is just letting us catch our breath before we dive on in to the next episode, which airs Oct. 25, according to TV Guide.
As for what's replacing Grey's Anatomy on the 18th, that would be some special Halloween programming. According to TV Guide, from 8:00 to 8:30 p.m. ET, you can catch the holiday classic It's the Great Pumpkin, Charlie Brown. Then, from 8:30 to 9:00 p.m. ET, check out the 2013 short film Toy Story of Terror! It features all your fave Toy Story characters catching up after the events of Toy Story 3 — and it's ~spooky~.
If going Grey's-less for a week has you breaking out in a stress sweat thinking about all the show's questions going unanswered for seven more days — (Will Meredith tell Amelia about Teddy's baby? Will Alex totally blow being Chief? WHERE IS JACKSON?) — you can read up on what's to come from the series and try to suss out some clues.
First of all, there's sadly zero mention of Jackson in the next two episode synopses, which is terrifying — but we must push on. Maybe the press releases just don't want to spoil his surprise return. (Right? RIGHT?) In any case, the Oct. 25 episode is titled "Everyday Angel," and its episode description reads:
"Meredith reaches out to Teddy and helps her talk through some of her personal struggles. Owen and Amelia hide out near Betty's school after she becomes a flight risk. Meanwhile, Jo wants to get to work on the fellowship, but Bailey's attention is elsewhere."
Sounds like Meredith will be telling Teddy she knows about the baby, but I wouldn't be surprised if Meredith kept the secret for Teddy and let her tell Owen (and Amelia) on her own terms. Also, clearly Owen and Amelia will continue having parenting problems, and Bailey's gonna keep shirking Jo — which is seriously so rude. She's trying to change the future of medicine!
Then, the Nov. 1 episode is called "Flowers Grow Out Of My Grave" and it's Day of the Dead themed, which is a fun change for a TV landscape filled with mostly Halloween content this time of the year. The episode description hints at what's ahead:
"Meredith has a patient whose family is celebrating Day of the Dead, making the doctors remember loved ones they have lost. Richard shares unexpected news with Meredith about her father, Thatcher. Meanwhile, Teddy tries to tell Owen that she is pregnant but they get sidetracked, and Jo encourages Link to pursue one of the doctors."
Great, another episode that reminds fans that all their favorite characters are dead. (Derek Shepherd should have had a head CT!) But, hmm... another bombshell about Mer's father? Does she have another, another half-sister out there? Also, is this the episode where we finally learn how Jo knows Link? Which doctor does she want him to pursue? (Meredith, it should be Meredith.)
There's so much left to explore in Season 15 and it's barely started. It's tough to take a week off in the middle of the action, but when the show returns, it'll be just as drama-filled as always. Now we just have to count down the days to Oct. 25.