Drake Just Answered The Biggest Q About His 'Degrassi' Video — Why Isn't J.T. There?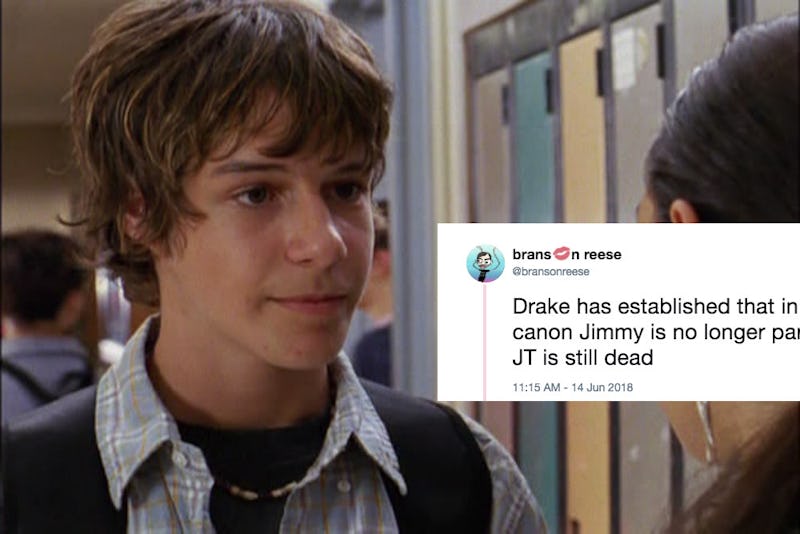 Entertainment One; bransonreese/Twitter
If you were one of those Degrassi fans that wondered why J.T. wasn't in Drake's "I'm Upset" video, don't worry, you're not alone. It turns out there were many who noticed actor Ryan Cooley's absence from this Degrassi reunion. Turns out, Drake actually has an answer for why J.T. isn't in his video. But be warned, it might leave you with more questions than answers. (Bustle has reached out to Cooley for comment, but did not receive an immediate response.)
On Wednesday night, Drake Instagrammed a shot of the Degrassi Community School sign with the caption: "Video link in bio." Drake's video for "I'm Upset" is a Degrassi reunion that had fans catching up with Drake's OG crew from his days playing Jimmy Brooks. There's Shane Kippel (Spinner Mason), Lauren Collins (Paige Michalchuk), Cassie Steele (Manny Santos), Miriam McDonald (Emma Nelson), Nina Dobrev (Mia Jones), Melissa McIntyre (Ashley Kerwin), Jake Epstein (Craig Manning), Jake Goldsbie (Toby Isaacs), Sarah Barrable-Tishauer (Liberty Van Zandt), and Stacey Farber (Ellie Nash).
Basically, the whole Degrassi: The New Generation gang was there, even Ephraim Ellis — who played Rick Murray, the character that shot Jimmy leaving him in a wheelchair — was there. But, fans couldn't help but notice that J.T. Yorke was nowhere to be found and one fan took to Drake's comments for an airing of their grievances. "I'm upset," they wrote, "because you didn't bring back J.T." And surprise, surprise, Drake responded that Cooley "thought it was a scam."
Now, that's a whole lot to unpack and unfortunately, Drake doesn't bother to do that in the comments section. There are so many follow-up questions worth asking the most logical being, why would Cooley think it was a scam? As of now, Cooley has yet to comment publicly about being M.I.A. from this clip.
While some are still trying to figure out what Drake's comment means, others fans wondered where he was the best way they knew how: through The Office GIFs.
Others noted it would be hard to bring J.T. back for the reunion, since he died in Season 6 after being stabbed at a house party at Emma's. Others, were still clearly upset about that death like Vulture's Craig Jenkins, who tweeted, "I'm still mad at how Degrassi did JT."
But, as one Twitter user named @bransonreese noted, Drake had taken some liberties with the show's history. "Drake has established that in Degrassi canon Jimmy is no longer paralyzed but JT is still dead," the fan wrote. Especially, since they brought Rick, who also died, back for the video.
To be fair, Cooley might have passed on the reunion because he rarely acts now. According to Cooley's IMDb, his last acting credit was the 2013 series Oh No! It's An Alien Invasion. Last year, Entertainment Weekly reported that following his time on Degrassi, Cooley attended the University of Toronto after Degrassi. Now the 30-year-old is the VP of the Konrad Group, which is a global digital agency that "help[s] businesses and brands succeed in the digital age."
But, that doesn't mean he's all anti-Degrassi now, in fact, his Twitter, which he hasn't updated in more than a year, is filled with Degrassi nods, including a retweet of a throwback Degrassi photo. He also tweeted out a link to a 2016 BuzzFeed article on the anniversary of J.T.'s death and how none of us are over it. But, he has chosen to pass on other Degrassi reunions, including one in 2015.
While many fans were sad not to see Cooley, others noted that he wasn't the only star missing from this reunion. Daniel Clark, who played Sean Cameron, was also not in the video depriving fans of a reunion with Emma. While Clark didn't give a reason for not being in the video, according to E! News, he did comment on Drake's Instagram saying, "really sad I missed this. Brought back some amazing memories — miss and love you brother."
Clark was last spotted with his Degrassi castmates, including Drake, in 2015 at the Toronto premiere of the web-series We Are Disorderly, which starred fellow Degrassi alums Al Mukaddam (Mohammed) and Mazin Elsadig (Damian Hayes), who was recently cited in Drake's explanation for that blackface photo Pusha-T used for the cover his diss track. (At the time, Bustle reached out to Drake's team for comment on the photo.)
While Drake's reason for Cooley skipping the reunion might very well be true, it's clear fans want to hear from the former Degrassi star himself. Hopefully, this misunderstanding will get cleared up soon and lead to another, more complete Degrassi reunion. Let's cross our fingers that if that does happen, someone remembers to take a photo or two so we can see it.