During Rachel Lindsay's After the Final Rose discussion with her Bachelorette runner-up Peter Kraus, she really made it seem like she was doubting his ability to be the next Bachelor, because he was not initially interested in proposing to her at the end of the show. This had many wondering how this would be any different if he took on the lead role next season. And now it looks like it could have played a part, because Peter is not the next Bachelor; Arie Luyendyk Jr. is.
Peter was the big fan favorite from last season, but the biggest (and only) red flag with him had to do with his lack of interest in proposing at the end of the season. During Rachel's season it was understandable for her to be upset since she was very clear about her intention to get engaged right from the outset. But, if Peter had made clear during his season of The Bachelor that he was on the show to date and start a serious relationship right from the start — not to get engaged, necessarily — then there would be no reason for anyone to get upset that he wasn't dropping down on one knee to hand out a ring, right? (Well, except for Neil Lane.)
Arie has been also been a fan favorite for a long time and was thought to have been in the running to be the Bachelor before. But still, he was on the show years ago. Peter was the man for the job this time, and it's a bummer it didn't end up happening.
Peter tweeted on Tuesday night, "Never let fear hold you back. Lesson learned." It's unclear what he means or if this is referring to the Bachelor decision, but perhaps this is about his fear of proposing to Rachel? It's unclear for now, but what is clear is that Peter should have been the Bachelor — proposal or not. Here's why.
He Is Realistic About The Process
When Peter was on The Bachelorette, he had no issue expressing his hesitation about finding his wife in less than two months. Can you fall in love in a few weeks? Sure, but it's a short amount of time to decide if you've met the one for you. Peter spoke the thoughts that were on many people's minds and it could have made for a refreshing Bachelor season.
He Is Well-Spoken
Peter has no issue sharing his feelings in a clear way. That's important when finding love, but also important when starring on a TV show.
He Only Wants To Be Engaged Once
During the Fantasy Suite episode, Peter made it clear that he only wants to get engaged once. He takes a proposal and marriage seriously. He is not the kind of person who wants to be engaged for the sake of being engaged or to make good TV. Wouldn't it be better to have a Bachelor who takes marriage seriously and refuses to propose prematurely than one (of the many) who just proposes because it's expected during the finale?
He Is Good Looking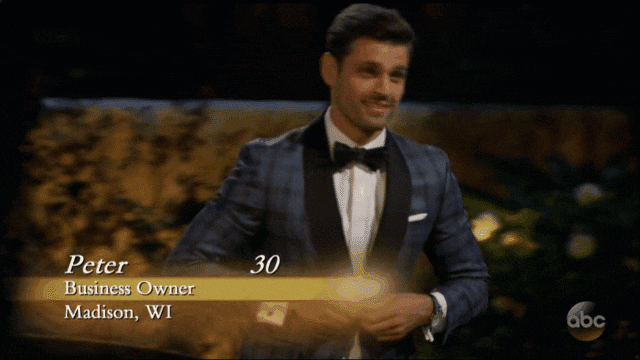 This isn't everything, but sure doesn't hurt to have a former model on TV every Monday night. The salt and pepper hair, the washboard abs, the cute gap tooth, the list goes on and on.
He Is The People's Choice
This fact is most important and is the one that most sets him about from Arie. The fandom was crying all over social media when Peter wasn't chosen to win Rachel's season. He was the undisputed favorite. Hearts broke vicariously on his behalf after the finale. Proposal or not, Peter is the one who people most wanted to watch. Now we'll just have to see if all his fans tune in for Arie.