There's A Good Reason Prince Louis Didn't Make It To Princess Eugenie's Wedding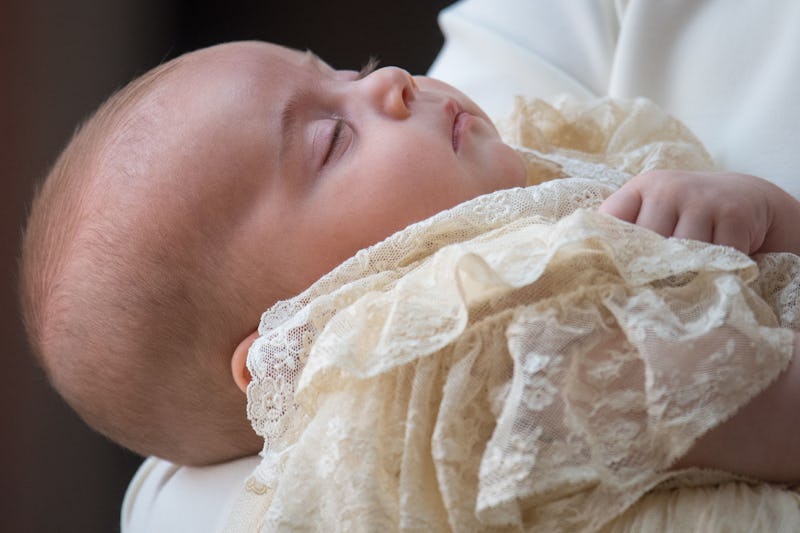 WPA Pool/Getty Images Entertainment/Getty Images
Every royal wedding has at least one iconic shot of royal sprogs misbehaving. But why isn't Prince Louis at Princess Eugenie's wedding?After all, on Wednesday, it was officially announced that Louis' older siblings Princess Charlotte and Prince George would be in the wedding party as flower girl and page boy. These roles are ones which the pair have become very adept at, having previously done the deed at multiple nuptials — including those of their uncle Prince Harry and Meghan and auntie Pippa Middleton and James Matthews. So needless to say, the duo are dab hands at this gig and can probably do it in their sleep. However, poor little Louis is far too small and probably literally would be asleep the whole time, so he is not ideal for a wedding party and was not given a role.
According to People, Louis would likely be overwhelmed by such a huge crowd and is probably at home in the care of trusted royal babysitters. Poor little Louis; I hope he hasn't got FOMO. And I wonder if his sassy older sister shouted "you're not coming" at him like she did at the paparazzi at his christening.
Cute AF Louis is the smallest of William and Kate's chilren, and was only born in April 2018. The lil cherub was christened on July 15 in front of a large number of friends and family. The palace chose to release some uber cute pics from the day itself showing a very sleepy little Louis on his best behaviour. However the image that fully stole everyones hearts was the adorable one of him with his mum, with him smiling the hugest grin ever.
Like the young children, Eugenie herself has done the bridal party deed at previous weddings, and she recently shared a cute AF throwback pic of her and older sister Princess Beatrice as flower girls at a wedding. Sure, it wasn't a royal wedding but the nuptials of her former nanny Alison Wardley back in 1993, but still — it counts. The girls had the classic flouncy white dresses and head gear to match, and they looked absolutely adorable.
Children at royal weddings are always a fun sight, with each royal wedding providing its own iconic shot of kids being super adorable or causing a little bit of mayhem. Remember Grace Van Cutsem, with her hands on her ears on the balcony at Prince William and Catherine's wedding, stealing the show from their royal snog? She found her place in the history books with that little act of anarchy.
And of course, there was the wonderfully gleeful smile of Brian Mulroney at this year's other royal wedding, Meghan and Harry's. It was a smile apparently spurred on by the sound of the trumpets when they entered the cathedral. Pretty darn cute.
So with all the excitement of Eugenie's nuptials, I am sure there will be plenty of equally cute moments, but Louis' siblings, and in fact all of the guests, will be envying the baby for his ability to nap through it all.