Princess Charlotte's Sassy Response To Photographers At Louis' Christening Is Too Good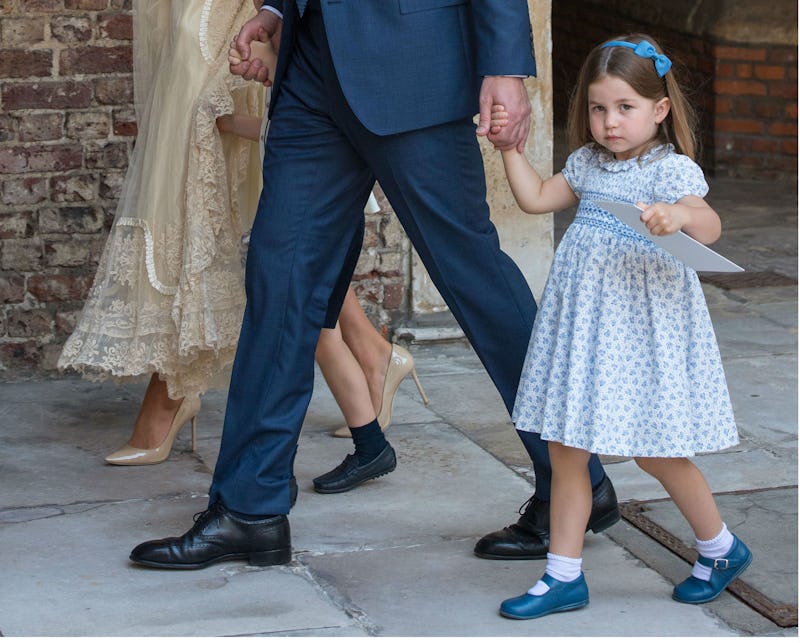 WPA Pool/Getty Images Entertainment/Getty Images
Toddlers are, in general, pretty ... let's say, precocious. Now, imagine that your *precocious* toddler is growing up in the public eye, constantly surrounded by strangers. Eventually, they're going to want to break that "fourth wall" between them and the crowds of ever-present strangers, which is exactly what happened when Princess Charlotte spoke to photographers at Louis' christening on July 9, according to Glamour.
After all the pomp and circumstance around her little brother Louis' christening had come to a close, Charlotte joined her now-family of five — Prince William, Kate Middleton, Prince George, and Prince Louis — for a final stroll down the chapel corridor before heading back home. First of all, she looked precious. Everything matched, from the bowed headband keeping her shoulder-length hair in place, to her smocked floral dress, and on down to her tiny blue Mary Janes.
She did, however, have a very noticeable look on her face that seemed to say something along the lines of, "Do not mess with me. I am over this. Why are there no snacks here?" Totally understandable. Even though the royal kiddies have been present at more than a few formal appearances over the course of their short lives — while they may, in fact, be getting accustomed to such events — that certainly doesn't make them any more fun.
Instead of ignoring the photographers on her way out, or saying, "Do not mess with me. I am over this. Why are there no snacks here?" Charlotte addressed the paparazzi, in a video shared by Newsweek, with one very succinct statement: "You're not coming," she told them of her next destination, a private tea at home with guests. She wasn't wrong, by the way. The public definitely wasn't invited, nor should they have been.
It was almost a blink-and-you'll-miss-it kind of moment, as her families' footsteps echoing within the corridor, combined with the sound of helicopters hovering in the distance, created a pretty thick barrier of noise around her softly spoken statement. If you watch the video a few times, though, it becomes pretty clear — and it's also pretty adorable.
Charlotte's addressing of the photographers is reminiscent of another royal toddler's behavior when it comes to the ever-present flashbulbs: North West. OK, so North — daughter of Kim Kardashian and Kanye West — isn't exactly royalty, per se, but she's basically the princess of reality TV's most famous family. Close enough.
Back in October 2015 — in what would be one of many such moments to come — a then 2-year-old North was making her way to ballet class with a nanny, when she was ambushed by a throng of paparazzi. As she teetered through the parking lot in her tiny little tutu, North looked directly at the crowd and announced, "I said no pictures!" Her squeaky toddler voice was so sweet and innocent, but it also must have undoubtedly been a pretty scary moment for such a small child.
Both North and Charlotte's breaking of the "fourth wall" between themselves and the unknown masses of paparazzi kind of signifies a bit of rebellion against the famous families they've been born into. While their parents — to a degree, and not so much in Prince William's case — chose a public-facing lifestyle, these kids have been forced and expected to endure it since day one.
Charlotte may not have any control over being photographed at formal royal appearances like her brother Louis' christening, but she's old enough to now know that the photographers and/or the general public are most certainly not allowed in her home. So, good on her for making sure that they know she knows, too.