'Wonder Woman' Won't Be Making Superhero History At The Oscars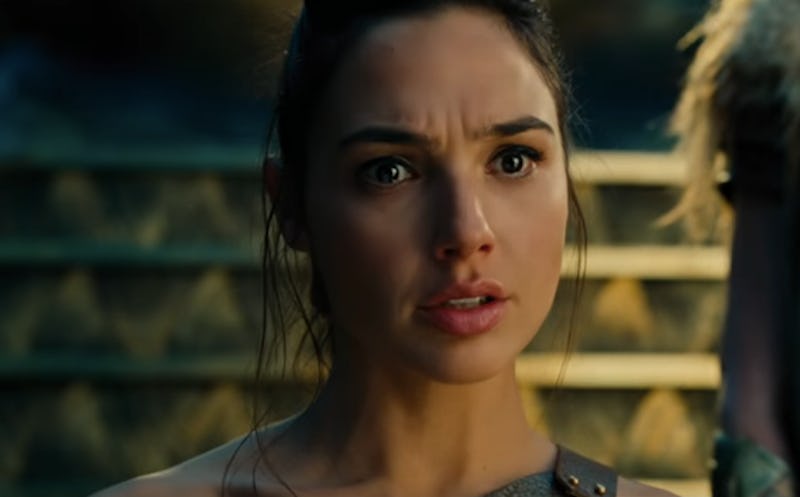 Warner Bros. Pictures
The Academy Award nominations are always sure to showcase some surprises and snubs, and the 90th ceremony's nominations are no different. Given the surprising snub of Wonder Woman (producer: Deborah Snyder) at this year's prestigious awards show, you might be left wondering: why wasn't Wonder Woman nominated for an Oscar? The film was completely shut-out in every category.
Wonder Woman was snubbed by all of the Academy Awards' technical categories, such as Sound Editing and Visual Effects. There was also a chance that the film could pick up an Oscar nom for Patty Jenkins, for Best Director. However, the superhero movie didn't get any awards love from the prestigious Academy.
Many originally speculated about the superhero film's chances at the major awards show after it premiered back in June 2017. In July 2017, Variety reported that Warner Bros., the studio behind Wonder Woman, would campaign for the film to be nominated in the Best Picture category. They would also reportedly campaign for Jenkins for Best Director.
Since the film was shut-out at the Golden Globes, it seemed unlikely that it might fare much better at the Oscars, unless it was nominated in more technical categories. Historically, awards shows like the Golden Globes and the Academy Awards haven't nominated movies in the superhero genre for any of their big ticket awards. No live action comic book movie has been nominated for Best Picture at the Academy Awards, as IMDb's list of Oscar-nominated superhero films notes.
There also isn't a precedent for the nomination for a director of one of those superhero films, but some were hoping that Wonder Woman would change this tide here. The movie was a massive box office success for Warner Bros. and DC Comics. It also made headlines for being a superhero movie led by a female superhero and directed by a woman.
Although, a couple of recent superhero films have helped to change that trend, specifically in the creative and technical categories. That's why Wonder Woman had a better chance in those categories, compared to Best Picture and Best Director. At the 89th Academy Awards, Suicide Squad, another movie in the DC Cinematic Universe, won an award for Best Makeup and Hairstyling. Superhero films like Doctor Strange, Guardians of the Galaxy, and Iron Man 3, have all also gotten some Oscars love with nominations in creative and technical effects categories.
Another film in the DC Universe, The Dark Knight (costume designer: Lindy Hemming), was also acknowledged by the Academy. The film was nominated for eight awards, largely in the technical categories. The Dark Knight also saw a nod and win for Heath Ledger, who posthumously won the Best Supporting Actor Award.
Wonder Woman's Oscars snubs aside, the film has gotten some awards love. The superhero flick was nominated for a Producers Guild of America Award for Outstanding Producer for Theatrical Motion Pictures. And the stunt team for the film won a Screen Actors Guild Award for Best Stunt Ensemble.
Wonder Woman's titular star, Gal Gadot, and director Jenkins have also done well for themselves in terms of snagging some awards. At the Critics Choice Awards in January 2017, the film took home the Best Action Movie Award and Gadot won the #SeeHer award, which was presented to her by Jenkins. And, in case you missed her amazing speech, the actor advocated for equality and described how she wanted her popular character to be an inspiration for everyone around the world. She really is Wonder Woman in real life.
While Wonder Woman was, unfortunately, snubbed by the Academy Awards, the inspiring film, and the cast and crew that made it special, will probably do just fine without the Oscar gold.