Maggie Gyllenhaal Explained Why James Franco Is Still On 'The Deuce,' Despite Those Allegations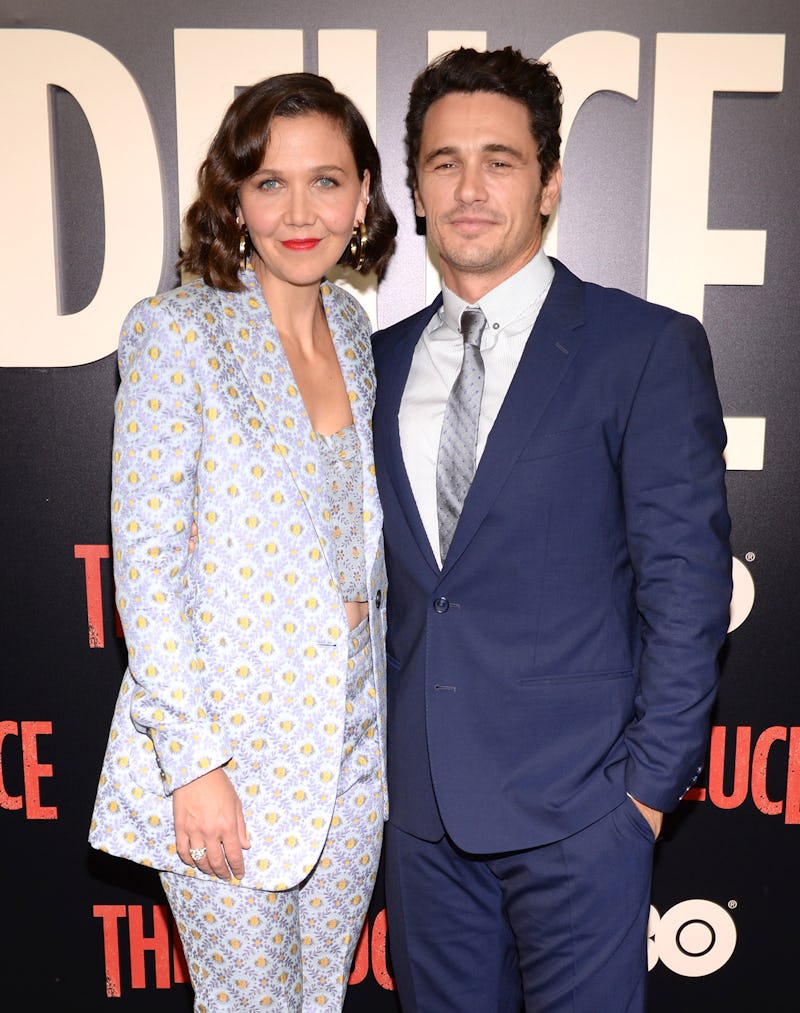 Andrew Toth/Getty Images Entertainment/Getty Images
HBO's series The Deuce is currently well into its second season, despite the fact that one of its major stars and executive producers, James Franco, was accused by multiple women of sexual assault and misconduct in January of this year. His co-star, Maggie Gyllenhaal, recently explained why James Franco is still on The Deuce, and she wants fans to know that everyone, including herself, took the allegations seriously before returning for Season 2.
In an interview with radio host Sway Calloway on his SiriusXM show, Sway in the Morning, Gyllenhaal said that as both an actor and a producer on The Deuce, she felt a "responsibility" to look into the claims and to ensure that the show's set was a safe environment. "I felt it was my responsibility to do the opposite of ignore it," Gyllenhaal said. "At the time that the accusations against James came out in the LA Times, we read them all, we took them very seriously," she said. "We spoke to every woman on the crew and in the cast to find out if they felt respected and what their experience of working with James was and everyone said that they had been totally respected by him."
In January, Franco was accused of sexual misconduct and exploitative behavior by a total of five women, who claimed that he used his position as their acting teacher to exploit them. During an appearance on The Late Show With Stephen Colbert that same month, Franco said that he "supports" the Time's Up initiative, but claimed that the accusations against him were "not accurate." He has since remained relatively silent, and has not done any major press for The Deuce Season 2.
Despite the allegations against Franco, Gyllenhaal said she feels that it's important for the show to continue airing with him as its star, as it addresses a lot of issues of consent, sexual relationships and misogyny. Set in the seedy world of 1970s New York, The Deuce centers on the legalization of the porn industry, and the resulting boom that took over the city, and the effect that it had on citizens, from government employees to sex workers.
Because The Deuce deals with all of those heavy topics, it was important to the Oscar nominee that the show stay on the air. "Our show is about misogyny," Gyllenhaal explained. "It's about transactional sex. It's about inequality in the entertainment business. You couldn't be more at the center of that conversation than The Deuce." She continued, "To me, I thought, 'I want to keep telling this story. I want to keep playing Candy and going deep into what it's like from a woman's perspective to be dealing with all the stuff that is on everybody's minds right now. I want to put it on TV.'"
Citing the "incredible" performances of her female costars, Gyllenhaal said that she felt that cancelling the show in the wake of the allegations would be the "wrong consequence," and would rob those actors of their jobs, in addition to losing the messages of the show. "It would've been, like, the opposite of the right thing to do." Gyllenhaal emphasized that she does not condone the behavior Franco was accused of, adding, "And yet I believe that there should be consequences for disrespecting or assaulting women. Of course I do."
Meanwhile allegations of misconduct against Franco have continued to emerge. Most recently, Busy Philipps claimed in her upcoming book, This Will Only Hurt A Little, that Franco physically assaulted her on the set of Freaks and Geeks. Philipps alleged that while filming a scene in which she had to gently hit Franco in the chest, he "grabbed both my arms and screamed in my face, 'DON'T EVER TOUCH ME AGAIN!'" She added, "And he threw me to the ground. Flat on my back. Wind knocked out of me." The Busy Tonight host also claimed that Franco was forced to apologize to her the next day by the show's producers, but that he was never formally punished for his actions.
Franco himself has yet to respond to Phillips' allegations; he also has yet to comment about how the sexual misconduct allegations against him have affected The Deuce. Perhaps he'll choose to speak out in the coming weeks, with The Deuce's return and Philipps' book making waves.
If you or someone you know has been sexually assaulted, call the National Sexual Assault Telephone Hotline at 800-656-HOPE (4673) or visit online.rainn.org.