Kim K Revealed Why Kanye Skipped The Met Gala & Honestly, It's Super Understandable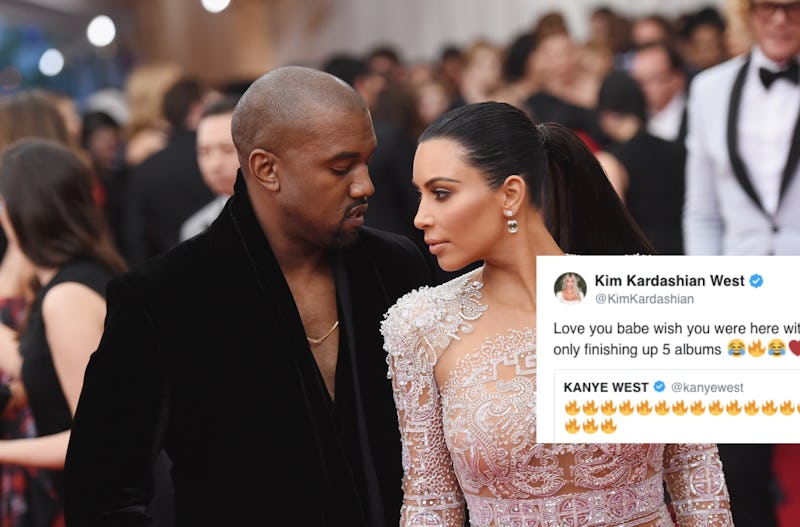 Mike Coppola/Getty Images Entertainment/Getty Images; Kim Kardashian, Kanye West/Twitter
As always, Kim Kardashian rocked the red carpet during the 2018 Met Gala. But she had to rock the red carpet solo this year, as her husband Kanye West didn't attend the event. The reason Kanye West wasn't at the Met Gala is actually a totally understandable one, according to his wife.
While the rapper didn't attend the gala, he was still all about Kardashian's fashionable Versace look. On May 7, he tweeted a photo of his wife from the event with a slew of fire emojis. Later that night, the reality star responded to her husband's sweet message with one of her own. In her reply, she also managed to reveal why her husband wasn't by her side at the event and it's a reasonable excuse. She tweeted, along with some fun emojis of her own:
"Love you babe wish you were here with meeeeee but you're only finishing up 5 albums"
The rapper has been vocal on Twitter about the new albums that he's been working on recently. If he's been hard at work on his music, then it makes total sense that West didn't appear at the Met Gala. And while she did wish that he showed up, Kardashian also completely gets that West's many work commitments come first.
While the West has appeared at the fashion event in the past, he was not expected to attend this year's gala, as Us Weekly noted beforehand. On May 3, the publication reported that the Life of Pablo singer would not be at the Met Gala. A source that is "close to the Kardashians" claimed to Us Weekly, "Kanye is definitely not going." The source continued, "One minute he says that he will go. Another, he insists that the album needs more work. Kim just wants to go to the gala and have a great time." Now, with Kardashian's tweet, the reason behind West's Met Gala absence is clear.
West has been tweeting up a storm about his upcoming albums (among other more controversial things, of course). On April 19, the rapper revealed that he had at least two albums that are due for release soon. He revealed that his own album, featuring seven songs, will be out on June 1. West also said that he has another album with Kid Cudi titled Kids See Ghosts, the name of the duo's group, that's due for a June 8 release. There hasn't been too much information released about the new albums, including details about the three more that are apparently on the way.
This is the second year in a row that West has missed the big fashion event. Last year, he also skipped out and left his wife to walk the red carpet solo. In an interview with Vogue's André Leon Talley, Kardashian explained that her husband wasn't at the gala because he was taking some time off to relax. "He's at home. He's been taking some time off and really loving that," the KUWTK star said.
In previous years, West was right by Kardashian's side at the high-fashion event. They first walked the red carpet together at the Met Gala in 2013, as E! News reported. The famous couple also made appearances at the event in 2014 and 2015. The last time they attended the Met Gala as a couple was back in 2016, when they both sported some interesting, futuristic looks.
So, if you were wondering why West wasn't with Kardashian at this year's Met Gala, wonder no longer. Instead of suiting up in something heavenly, the rapper was busy working on his multiple albums.