Why 'Riverdale' Fans Who 'Ship Bughead Should Give Toni Topaz A Chance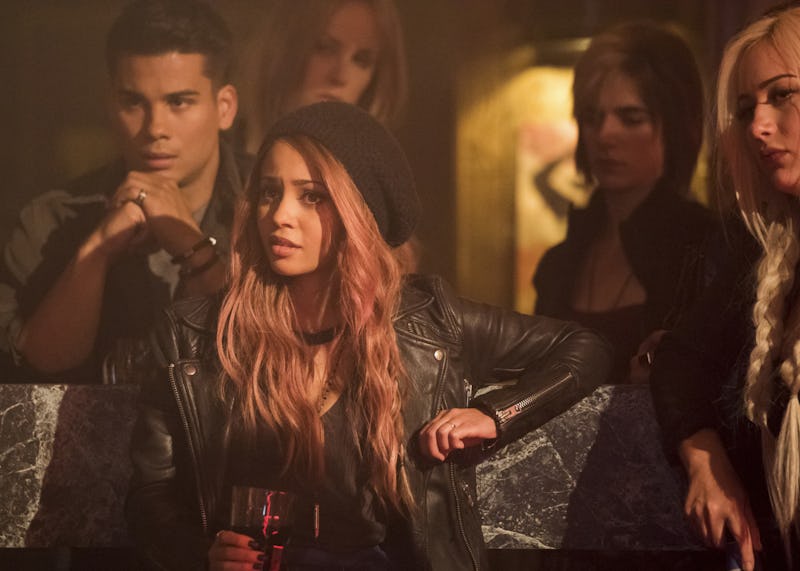 Dean Buscher/The CW
What Riverdale and the Archie comics that inspired them have done is take archetypes like the jock, the loner, and the girl next door and expands them in surprising ways. These stock characters are fleshed out and twisted and so much more than stereotypical caricatures. For that reason, it's important to remember that Toni Topaz is more than "the other woman" on Riverdale, and Bughead fans should give this lady Serpent a chance.
For one thing, reducing a character to romantic competition is regressive and problematic. She shouldn't be defined by her relationship with Jughead or any other male character. Toni (played by Vanessa Morgan) had been on Riverdale for only one episode when headlines asking questions like "Is Another Woman Making a Move on Jughead" started popping up. It's a valid question to ask, especially on a show with lots of romantic twists and turns, but prioritizing it over everything else still puts a negative narrative onto this character who has barely had a chance to establish herself yet.
There's a lot more going on with Toni Topaz than her potential position in a romantic triangle. For one thing, she's a member of the Southside Serpents. That's interesting. What's her story? Her background gives her a far more substantial reason to have a problem with Betty Cooper than just both of them lliking some boy. Betty's mother Alice does not have the highest opinion of Toni's friends and part of town. It's likely that she and Betty wouldn't get along even if Jughead wasn't involved.
There's also a lot more going on in Riverdale than sharing milkshakes and passing notes. Veronica Lodge might rather devote her energy to watching "The Matchelorette," but there's a killer on the loose. So another reason to give Toni a chance is that she's probably a viable asset to their group. Jingle Jangle is a source of conflict between the South Side and the North Side of Riverdale, but none of them, on either side of the tracks, want the Black Hood around.
In the Nov. 1's episode, Toni revealed an interest and expertise in serial killers. Maybe she can help solve this mystery? Sure, she also claps Jughead on the shoulder and jokes around with him in the scene — but let's calm down and have a little faith in the power of Riverdale and Bughead love.
Betty and Jughead actors Lili Reinhart and Cole Sprouse discussed the character in an interview with Entertainment Tonight's "Sweetwater Secrets" video series. "Toni Topaz is the opposite of Betty," Reinhart said. "She does cause a rift a little bit, kind of a change in Betty's world. Catches her in her tracks a little bit." And Sprouse hinted that Toni is trying to "coax" Jughead into the Serpents and definitely has an agenda that his character is unable to see.
"She causes a little bit of trouble," Reinhart added in the interview, "but she's not like an enemy to the 'Bughead' fans. I don't really think of her character that way. She's a lot more of Jughead's ally on the South Side." See? Not too much to worry about.
This wouldn't be the first show to subvert the other woman stereotype in 2017. Offred and Serena Joy's relationship in The Handmaid's Tale takes a hard look at how we pit women against each other. Friends From College is a comedy about affairs that has the audience sympathizing with all parties equally. What sets Riverdale apart is that it's a teen drama. In theory, those raw, young adult emotions make it easier to paint things as black or white or people as bad or good, but allowing Toni to be a fully-fledged character instead of a romantic obstacle would be a refreshing take.
Finally, Toni is like... real cool. She has pink hair. She's a photographer, and the many fledgling journalists of Riverdale needs some of those around. The potential for tension between Betty and Jughead and the relentless focus on it makes this new character difficult to enjoy, and that's a shame.