Why Terrorists Attack Concert Venues Packed With Children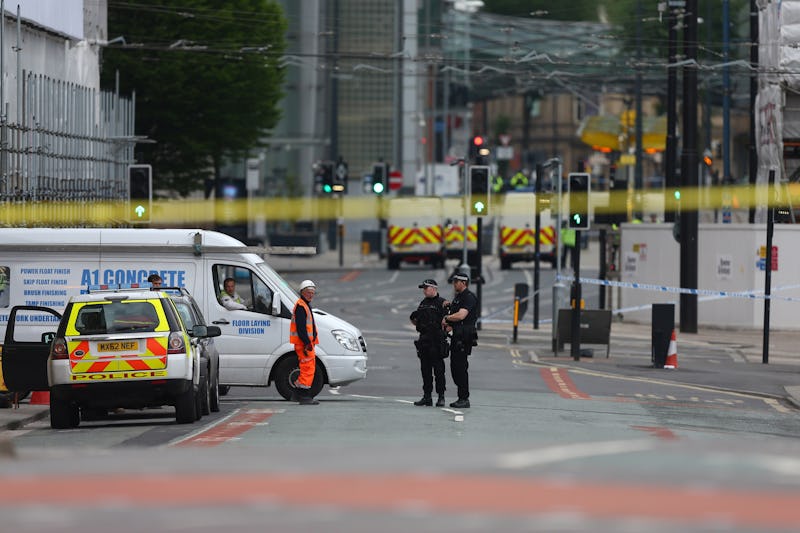 Dave Thompson/Getty Images News/Getty Images
When a bomb ripped through the foyer of Manchester Arena after 23-year-old American pop singer Ariana Grande left the stage, thousands fled the stadium in shock, horror, and tears. The Monday evening bombing is the most deadly attack in the United Kingdom in more than a decade, and it's the latest in a string of terrorist attacks aimed at recreational venues. These concert halls, night clubs, restaurant, bars, shopping centers and movie theaters are known as "soft targets," and experts say understanding these attacks is key to deflating their power.
"This kind of violence is meant to have the greatest psychological impact possible," William Braniff, the Executive Director of the National Consortium for the Study of Terrorism and the Responses to Terrorism, and a former instructor at West Point's Combating Terrorism Center, tells Bustle. "There's a psychological impact when soft targets are hit that makes you feel like a member of British society right now; that you could be targeted in the most innocent of settings."
The number of attacks on "soft targets" in recent years is on the rise. Monday night's attack drew quick comparisons to the Bataclan shooting in Paris in November 2015, which resulted in 90 deaths. Shooters entered the concert hall's main entrance after the rock group Eagles of Death Metal took the stage and fired into the crowd. With assault rifles and explosives, attackers killed 130 people at six locations across the city that night. They targeted restaurants and bars teeming with patrons on a Friday evening. Hundreds were wounded.
"This kind of violence is meant to have the greatest psychological impact possible."
Less than a month following the Paris massacre, attackers killed 16 people at a Cairo restaurant by flinging firebombs into a basement eatery with only one exit. Last June, a 29-year-old man committed the deadliest shooting by a lone gunman in modern American history when he opened fire in an Orlando nightclub, killing 49 people. Weeks later, eight people were injured in a grenade attack on a nightclub in Kuala Lumpur, Malaysia. Last New Year's Eve, shooters killed 39 people at a nightclub in Istanbul. A day later, a gunman opened fire at a bar in Tel Aviv, killing two people and wounding seven others.
This spate of attacks is part of a trend of violence committed in public spaces. With open borders and heavy foot traffic, these locations are particularly vulnerable to attacks.
"The idea is, if you're devoting love… to a musician, you're diverting attention from God and God is the only one deserving."
"If you're a sports venue, a concert hall, a shop, you want people coming in and out of your place of business as much as possible, so the last thing you really want to do is out put up barriers to entry," Braniff says.
Large-scale concert venues, like the site of Monday's bombing in Manchester, attract thousands — and offer very few points of exit. The same goes for nightclubs and restaurants, which are notoriously easy to strike and nearly impossible to defend.
"This isn't a military base; it's not a police precinct. It's a place where civilians congregate to do things that are entirely removed from the functions of government," Braniff says. "We tend to see them as places where innocent people are gathering and therefore they don't have a high level of physical security."
ISIS claimed responsibility for Monday's attack in a statement online. After the November 2015 Bataclan massacre, the terrorist group used the word "profligate" in a statement, which Braniff says is intended to point out that concert was attended by people who worshipped a variety of gods. "The idea is, if you're devoting love… to a musician, you're diverting attention from God and God is the only one deserving." Braniff says this is why "soft targets" have become "symbolic of the sins of Western culture" as ISIS sees it.
"It is a warped, deplorable demonstration of their commitment to this cause that they are both willing to kill and die for what they believe in," Braniff adds.
In the wake of the Manchester bombing, police are increasing security at concert venues in major cities in the wake of the attack. Braniff says while that can help, part of the challenge in facing down these threats is that precautions are only effective to a point. "There is an inherent risk in living in a free and open society, and I think we need to value that… and accept that there will be some residual risk."
"These acts are in part designed to force overreactions."
National campaigning has been suspended in Britain in the weeks leading up to a general election called by Prime Minister Theresa May. The country faces resistance over the vote to leave the European Union. While that vote has more of an effect on things like trade issues rather than national security, which typically remain in a country's own wheelhouse, it's a decisive step away from international collaboration in the face of a threat that knows no borders.
Meanwhile, American and international audiences will wait to see whether President Trump takes up the issue at this week's NATO meeting in Brussels. "These acts are in part designed to force overreactions," Braniff says. "This is a tactic that's designed to make us react emotionally as opposed to in a way that will help us create the kind of societies we want to live in… And we need to sort of have the strength to resist that temptation while still mitigating the threat as much as possible."
Here are some ways you can help.