The Manchester Attack Won't Stop Me From Living Out Loud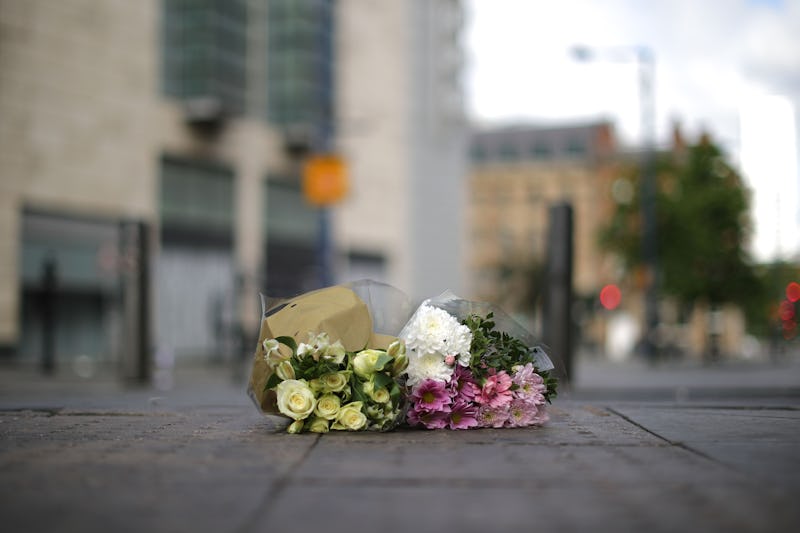 Christopher Furlong/Getty Images News/Getty Images
The more I think about the Ariana Grande concert attack in Manchester, England, the less I can make sense of it. I first heard about the attack last night, when CNN pushed news of the bombing on my phone. The message dropped down into my phone's screen for a moment — invading my personal realm — and then it disappeared. I waited for more news before letting feelings flood in. This morning, shortly after I woke up, I received another CNN alert: the bombing was indeed a terrorist attack; ISIS had claimed responsibility, according to US counterterrorism officials. I am lucky that this is how the news of the at least 22 deaths and 50 injuries hit me, through the news rather than through personal connection.
When you are 16 or 21, or even nearly 26, like me, you believe that nothing can harm you. You have always been here, for as long as you can remember. You, if you are from most parts of America, have probably not been touched by such senseless violence. The first time you felt this feeling, this insurmountable incomprehension, was likely on September 11, 2001. You felt it again on April 15, 2013, when the Boston Marathon was bombed; on November 13, 2015, when terrorists killed more than 100 people in Paris; and on June 12, 2016, when nearly 50 people were killed in the Orlando gay nightclub shooting.
I remember sitting in a cafe last June with one of my closest friends. As a gay man, he felt disturbed by the Orlando attack. It felt so close to home. I don't think he went so far as to say this, or maybe he did, but it was apparent that he felt as if it could've been him in that club, dancing the night away in a seemingly safe space. With this latest incident at the Ariana Grande concert, it could've been my sister. She loves pop music.
But we must not let ourselves think this way, to over-identify, for two reasons: first, it distracts us from honoring those who were actually affected; and second, it's exactly the kind of thinking that many terrorists want us to indulge in. To put this more bluntly: In attacking Grande's concert, one that likely attracted mostly young women, those involved sought to strike fear into the hearts of anyone who could've been there themselves — me, or you, or my sister. Those involved likely wanted to shake a demographic that, in general, doesn't feel touched by such wanton violence with any frequency. My sister and I lead lives of brunching and dancing in our free time. We face heartbreak and other difficulties, but perhaps until last night, we were not afraid to gather with our friends in public to listen to the popular Grande hit, "One Last Time."
Terrorism is guerrilla warfare. It's unlikely that terrorists could defeat their purported enemies using traditional military tactics. And so they seek out the symbolic: a center of business, a safe space created by Western liberal values. And though it is hard, we must not let ourselves be afraid or deterred. Because that is exactly what terrorists want.
Here are some ways you can help.