The Last Terrorist Attack In The U.K. Wasn't Long Ago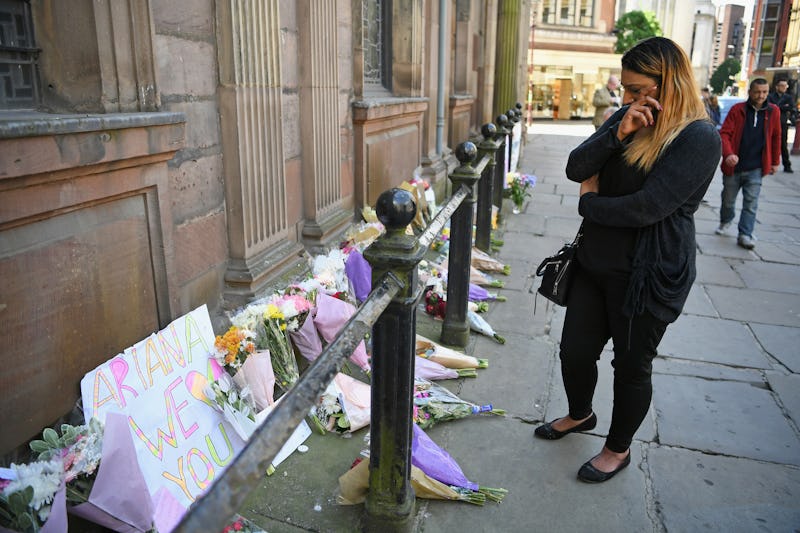 Jeff J Mitchell/Getty Images News/Getty Images
On May 22, an explosion at Ariana Grande's concert in Manchester, England, killed at least 22 people—making the incident the deadliest attack in the UK since the 2005 London Bombings. However, it was not the only incident in the 12 year gap.
On March 22 — exactly two months before the concert attack — police responded to shots being fired Westminster Bridge. According to The Telegraph, a car plowed through the crowd not soon after, and the driver got out and stabbed a police officer, resulting in five deaths and 50 people injured. ISIS never officially claimed responsibility for the attack, but, as Bustle reported, London Metropolitan police did refer to the incident as terrorism.
Before the March 22 incident, the most recent UK terrorist attack was on May 22, 2013, according to CNN, when a British soldier was killed. Despite the date being the same, there appears to be no correlation between the two incidents.
As Bustle reports, a nail bomb may have been the cause of the explosion in the Manchester Arena Bombing. Authorities are saying that the suspected attacker most likely travelled by Tube to the Victoria Station, where he detonated the bomb and was likely killed in the explosion.
Since the Manchester Arena bombing, Pray For Manchester memes and comments of love and support from all over the world can be seen all over social media. Celebrities have offered their support to Manchester victims as well.
President Trump responded to the Manchester Arena incident, saying:
I extend my deepest condolences to those so terribly injured ... and to the so many families of the victims. We stand in absolute solidarity with the people of the United Kingdom. Young, beautiful, innocent lives ... [taken] by evil losers.
You can see and send your own messages on social media with the hashtag #PrayForManchester.