This Creepy Crafting Show On Netflix Is Perfect For A Halloween Marathon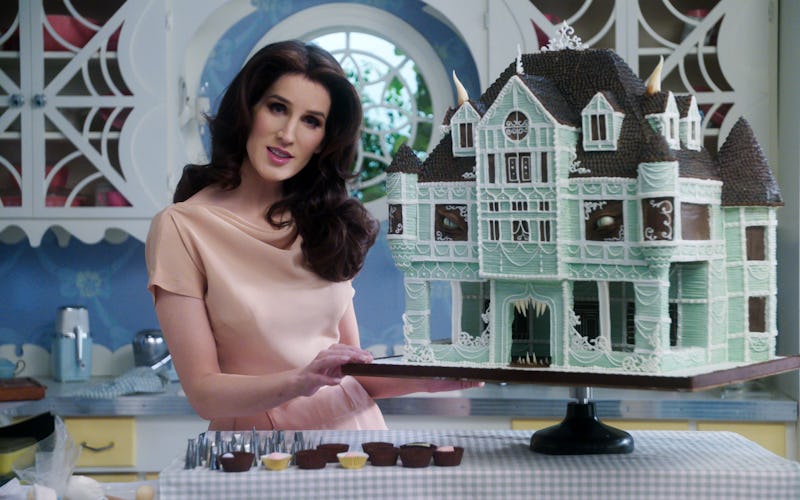 Netflix
The Halloween season is a time when people across the world seek to satisfy their craving for scares — but sometimes audiences need a show that isn't trying to make them afraid of the dark. Those looking for an inspired mixture of creepy and calming in their television diet would be doing themselves a favor by checking out Netflix's The Curious Creations of Christine McConnell, whose titular creator described the show to Bustle as "The Munsters meets a DIY show."
Christine McConnell has made a name for herself with her crafty creations and cakes, many of which look like they've jumped right out of a Tim Burton movie. "[My works] have spooky, kind of sinister elements," McConnell tells Bustle, "but I walk this kind of fine line with what I do where I like things that are really scary but then there's sort of a line I draw in the sand where I don't go too gory... I have before, occasionally, but overall I like keeping it playful."
The show's playfulness comes alive not just in McConnell's creations, but with the help of her macabre friends on the show — ghastly puppets of a werewolf, raccoon, and mummified cat created in collaboration with the Jim Henson Company — who banter with the star in between her crafting segments.
While many DIY shows are rooted in reality, including recent favorites like The Great British Bake-Off, Making It, and most of HGTV's programming, McConnell says she "wasn't super into a reality-based show that wouldn't have any sort of 'magic' element to it." And it's clear that Curious Creations wants to bring a little escapism to the genre. After all, there's nothing more magical than watching three animal friends make quips while constructing a monstrous edible dessert.
However, just because there are puppets, don't mistake Curious Creations as a show that's just for children. Curious Creations is a family friendly program, but parents watching with young ones may need to be prepared to explain an innuendo or two. "We were trying to avoid the kid realm, because I wanted to create a show that adults would like," McConnell says. "[There's] plenty of adult humor in it, but sort of subtle so it could go over the head of a kid." McConnell compares the show to something that she "would've wanted to watch as a child and maybe wouldn't have been allowed to."
Curious Creations may be a spooky spin on the DIY genre, but it's still a DIY show at its heart. "You're gonna learn how to do these creepy weird things in your house ... Some of the things are really doable and some of them are — I mean, there's a joke on the fact of how long this probably took to accomplish. It's playful and informative and sunny." Curious Creations is Halloween comfort food about Halloween comfort food, and could be the perfect show to fit in between screening gory thrillers and bloody horror films during the month of October.