The Dept. Of Education Is Being Sued Over Sexual Harassment Records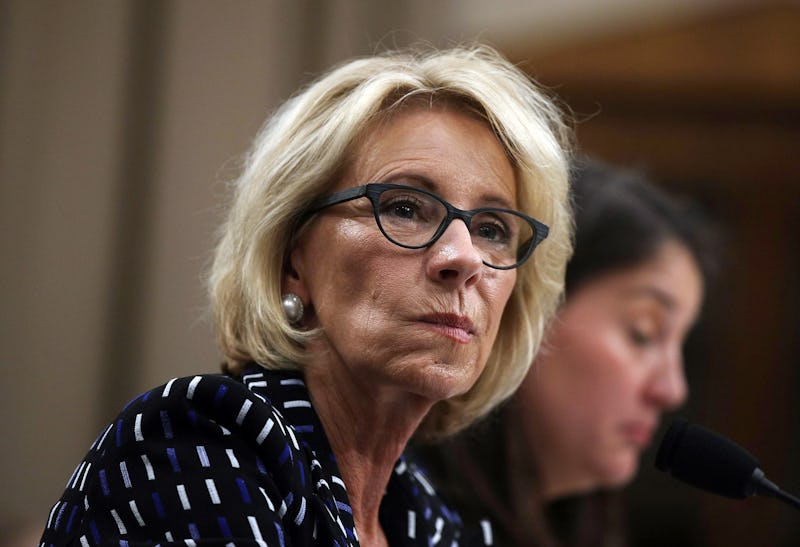 Alex Wong/Getty Images News/Getty Images
Alexandra Brodsky, a National Women's Law Center fellow, penned a scathing blog post Monday which outlined exactly why the National Women's Law Center is suing the Education Department. Without confusing readers with complicated legalese, Brodsky explained the trajectory that led to this heated moment.
According to Brodsky, she and her colleagues filed a request under the Freedom of Information Act to the Department of Education in January. For those who may not know, the Freedom of Information Act is a legislative measure that allows Americans to access governmental records and documents. The only documents or records barred from public viewing are those that could potentially compromise individual privacy. The NWLC was looking for information regarding "enforcement of the federal law Title IX, which forbids sex discrimination in education, in response to complaints about sexual harassment," according to the post.
Brodsky claimed that the request filed by the National Women's Law Center was never addressed by the Department of Education. "The Department of Education hasn't turned over a single page in response to our January letter," Brodsky wrote (emphasis hers). In light of such a non-response, the center, along with co-counsel Davis Wright Tremaine, sued the Department of Education for failure to provide the records. A spokesperson for the department told the Washington Post they could not comment on pending litigation.
Brodsky detailed how the center's request zeroed in on records concerning the department's implementation of Title IX. Title IX is a crucial law that does not permit discriminatory practices based on sex, while also requiring federally funded schools to immediately address reports of sexual harassment from students.
The request sought to view any complaints regarding sexual harassment, and whether there were any ongoing harassment-based complaints that the Department of Education was probing. Furthermore, Brodsky explained, the request sought to view any agreements that the department may or may not have entered. The actual complaint against the Department of Education can be read in full detail on the website.
In print, it seems to be a fairly simple and critical request, but Brodsky highlighted the apparent lack of cooperation from Secretary of Education Betsy DeVos. Although not explicitly mentioned in Brodsky's post, DeVos is known to have a controversial standing on Title IX commitment. In January, DeVos came under fire for saying that it would be "premature" to commit to Barack Obama's stipulated Title IX. For students who worry about their safety on campuses, this comment from DeVos was incredibly worrisome.
At this moment, the Department of Education has issued no response to the news coming from the National Women's Law Center. Unfortunately, the department's silence is speaking volumes.