Chris Harrison Is Taking His Sweet Time Announcing 'The Bachelor'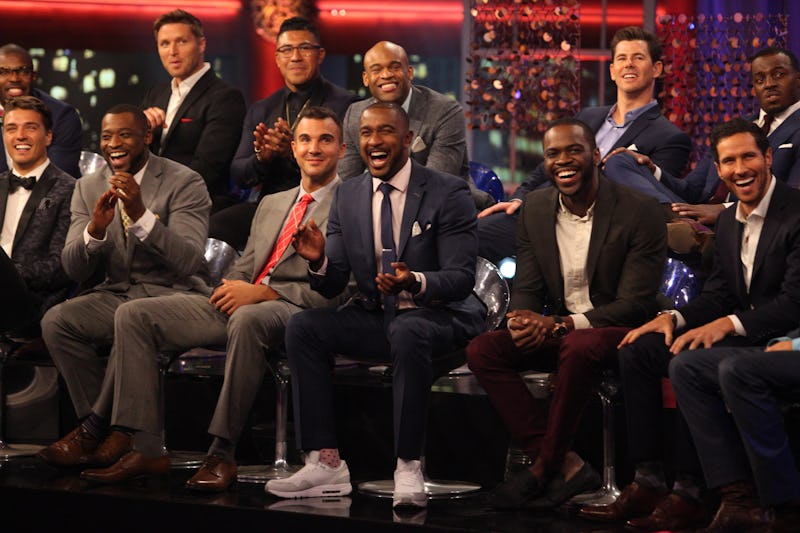 ABC
Last year, ABC broke heavily from Bachelor Nation tradition when it announced that Rachel Lindsay, who hadn't yet been dismissed from Nick Viall's season of The Bachelor, would be the star of the next season of The Bachelorette. Fans were surprised that the network would inadvertently spoil their own show like that, but ultimately their excitement for Rachel totally won out. But now Rachel's season is almost over, though, and the question of who will take her place at the center of the next Bachelor show is still up in the air. So why wasn't the Bachelor announced at the end of The Bachelorette?
As of July 26, just before this season's Men Tell All episode was filmed in Los Angeles, longtime show host Chris Harrison told Entertainment Tonight that the show had not yet picked a new Bachelor — although Rachel Lindsay's season has certainly offered up plenty of compelling men to choose from. "Dean, Peter, Bryan, Eric. There's four great candidates right there," he said. "They'd all be great Bachelors, they would. I can't poke a hole in any of them, but in all seriousness, we've not picked a Bachelor. So, I can tell you, no Bachelor is chosen."
So what's taking so long? According to Harrison, the producers want Rachel's love story to run its course before they select someone to take her place. It's also possible that they might be waiting to see if a frontrunner for next season emerges from Bachelor In Paradise, just like Nick Viall did last year.
"We don't start taping for quite some time," he admitted. "So there's no reason — I know people would love for us to announce it, but there's no reason to. We would just be jumping the gun. So, we're going to wait."
On the plus side, all the waiting will give fans plenty of time to vie for their favorite contenders, including Peter, Eric, and even pro-wrestler Kenny King, although something tell me his relationship with his daughter might put a hinder on his desire to go on another reality show. Dean Unglert was also recently added to the Bachelor In Paradise cast, which has a lot of onlookers thinking he's the favorite to become the next Bachelor from that show.
Either way, whoever ABC picks for The Bachelor is going to have a lot riding on him. After all, Rachel was pretty perfect as a star — hopefully whoever succeeds her will be just as funny, charming, and personable when he's the one on the spotlight.