'Wonder Woman' Fans Might Be Able To Stop Freaking Out About This Now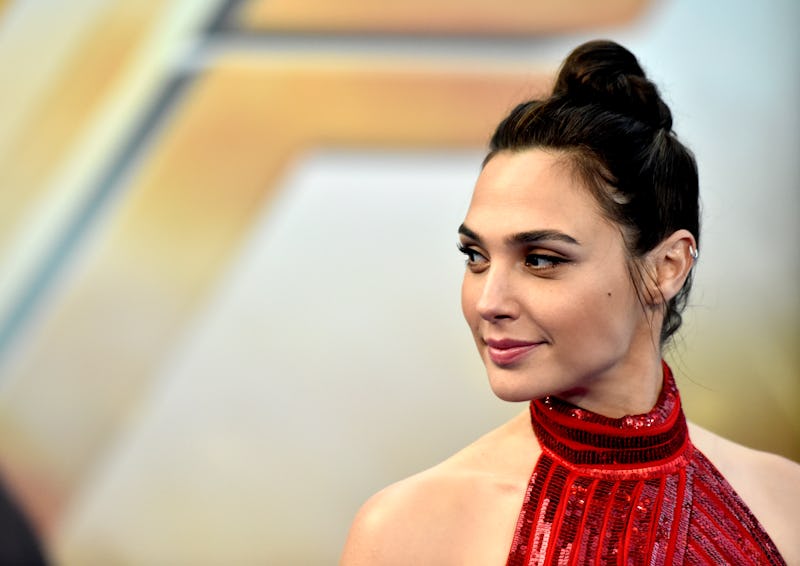 Frazer Harrison/Getty Images Entertainment/Getty Images
On Monday, some not-so-chill allegations regarding Gal Gadot's Wonder Woman pay and Henry Cavill's Man of Steel pay went viral, but according to some new scoops, it sounds like that whole $300,000 vs. $14 million thing might not be a real thing after all. BuzzFeed reported on Tuesday that "a source familiar with the situation" claimed "that Gadot was paid 'at least' as much for Wonder Woman as Cavill was paid for Man of Steel." The BuzzFeed report also stated that a source "familiar with star salaries for studio franchise movies" said Cavill's Man of Steel salary was allegedly not anywhere near $14 million. Bustle has reached out to Gadot's rep, Cavill's rep, and Warner Bros. for comment but did not immediately receive a response. But, luckily, it seems like that ultra-low figure could be purely fiction, so Wonder Woman fans can relax — probably.
Vanity Fair pointed out that Cavill's reported $14 million (still not confirmed) would also include box office bonuses, whereas Gadot's reported $300,000 would be a base salary. Of the alleged $14 million, the publication's source said, "It certainly isn't for one picture. That's insane."
Regardless of what Cavill did or did not make, Gadot certainly should be making the same (if not more) for her own DC-franchise, solo movie debut. After all, Wonder Woman received immensely better reviews than Man of Steel (or any movie in the DCEU, for that matter). It also brought in more money during its opening weekend, and earned more than the Superman origin story in subsequent weekends, too.
But fans already know this, because Gadot's loyal Wonder Woman following was up in arms when the alleged original figure was reported, and they had good reason to be. Not only is she of equal worth to Superman, Wonder Woman is the first female superhero to get a standalone film, and that's huge. The kind of huge that should ensure its star receive a big, fat paycheck for a job well done.
And if you've seen the 2017 origin story of Diana Prince, the Amazonian warrior sculpted from clay who essentially ends a war waged by man, I bet you'd agree. Gadot embodies the fearless hero with every lunge of her spear, with every brave step across the battlefield, and each earnest, well-intentioned remark. She's an American hero through and through, and that's in big part thanks to Gadot's tremendous iteration.
Because come on, of course Gadot deserves to be paid as least as much as Cavill. I'll take a 'duh' with a side of 'no kidding,' please. And if she wasn't paid what she deserved for Wonder Woman, I sure hope Justice League is paying attention, because Gadot has her own, well, justice league of loyal followers ready to call out anyone who is trying to take advantage of their Gal.