This Is Why North Korea Is Threatening To Attack Guam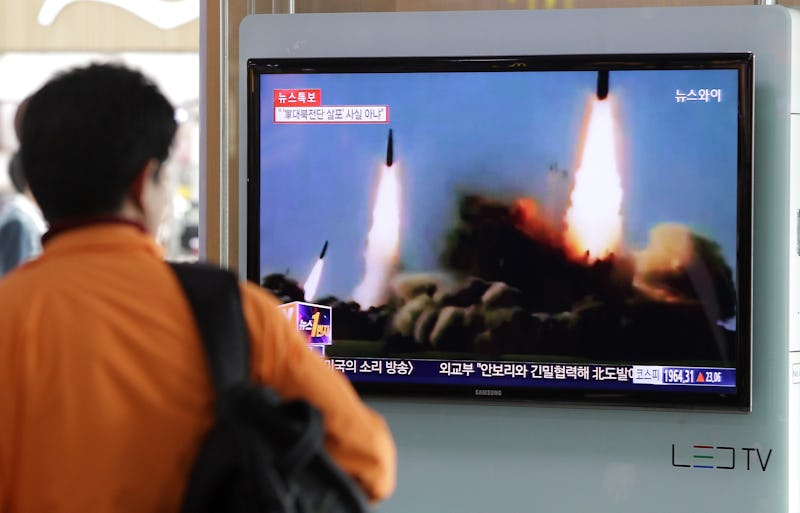 Chung Sung-Jun/Getty Images News/Getty Images
North Korean State Media reported that North Korea is considering a plan to strike Guam with missiles, further escalating the rhetoric after comments from from President Donald Trump on Tuesday promising a response of "fire and fury" to threats to the United States. Considering its position as a U.S. Pacific territory, strategic location, and it's two U.S. military bases, it's easy to see why North Korea would target Guam.
According to Reuters, a spokesperson for the Korean People's Army (KPA) gave a statement to Korean Central News Agency or (KCNA) just hours after Trump's statement, saying that they were just waiting on a decision from their leader Kim Jong Un. Per the statement:
The KPA Strategic Force is now carefully examining the operational plan for making an enveloping fire at the areas around Guam with medium-to-long-range strategic ballistic rocket Hwasong-12 in order to contain the U.S. major military bases on Guam including the Anderson Air Force Base.
In comments to reporters earlier on Tuesday, Trump touched on reports from The Washington Post that North Korea had developed a nuclear warhead that can fit inside their missiles. Insisting that any aggression would be met with "fire and fury," Trump said:
North Korea best not make any more threats to the United States. They will be met with fire and fury like the world has never seen. He has been very threatening ... and as I said they will be met with fire, fury, and frankly power, the likes of which this world has never seen before.
Tactically, Guam has been called by former Deputy Defense Secretary Ashton B. Carter "an important strategic hub for the U.S military in the Western Pacific." It's the location of both Andersen Air Force Base and Naval Base Guam and 6,000 U.S. troops (a number expected to grow in the near future). Location-wise, Guam is also in a sweet spot between the Korean Peninsula and South China Sea that remains pivotal for so much of the United States interests in the area.
Meanwhile, Guam is a region with a long and complicated history with the United States. While it has been controlled by the U.S. Navy since the Spanish-American War of 1898 (save for the Japanese occupation of the island following the attack on Pearl Harbor), there's a growing sentiment among many residents that they might be better off independent from the U.S. While residents are U.S. citizens (like residents of Puerto Rico and American Samoa) they cannot vote on the island in presidential elections.
While it's not the first time North Korea has threatened the bases on Guam, the back-and-forth of escalating rhetoric between both Trump and Kim Jong Un may be considered grounds for some concern for those on the island and in the U.S.