Why Do We Date Emotionally Unavailable People? Astrology Can Explain That.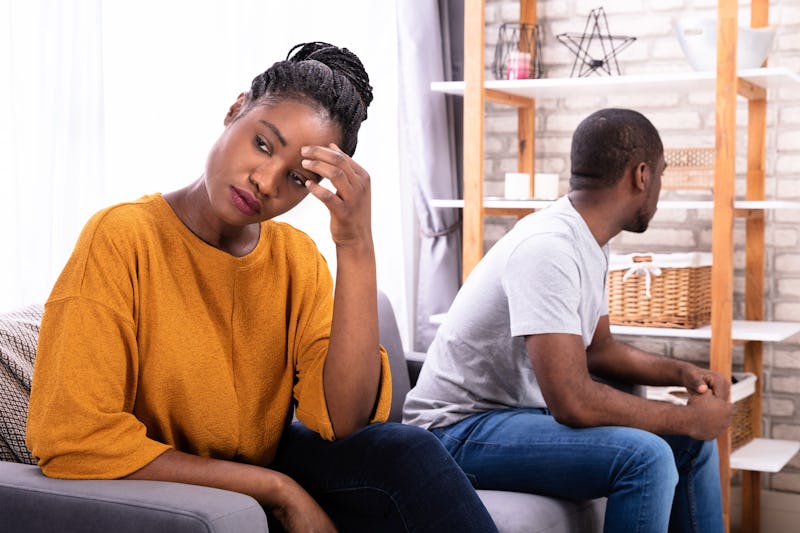 Shutterstock
There's nothing worse than falling for someone who's everything you could ever want only to find out that they're emotionally unavailable. No matter how loving, patient, and understanding you are, the person you're with won't give you the type of emotional connection or commitment that you ultimately want. Even if it's not the ideal situation, many still find themselves being drawn towards it. If you have a tendency to date emotionally unavailable people, it may be written in your birth chart.
Astrologers will look for different things in a person's birth chart to see what type of partners they attract, what type of partners they're attracted to, and how they approach love. If there's an aspect relationship between Venus and Neptune in your natal chart, astrologer Rachel Lang, tells Bustle, you may have a pattern of getting into relationships that aren't really right for you.
"When these two planets relate well with one another by aspect, the person will have a heightened sense of romance," Lang says. People with this type of a Venus-Neptune aspect are the ultimate romantics. They'll go all out for love, and may even express themselves through love letters or poetry.
But if Venus and Neptune are in hard aspect in your natal chart, you might have the tendency to fall in love with someone's potential. You're more likely to give people second and third chances, and stay with someone who's emotionally unavailable because you're optimistic that they'll open up and eventually change.
"I always tell my clients with Venus-Neptune relationships in their charts to make a list of non-negotiables rather than what qualities you want in a partner," Lang says. "Once you know what you absolutely don't want, you'll be able to set boundaries for yourself."
Having a Venus-Neptune aspect relationship in your chart isn't the only thing astrologers look for. Here are some other reasons why you you always date emotionally unavailable people, according to astrology.