Beyoncé & JAY-Z's Twin Names Could Still Surprise Us This Way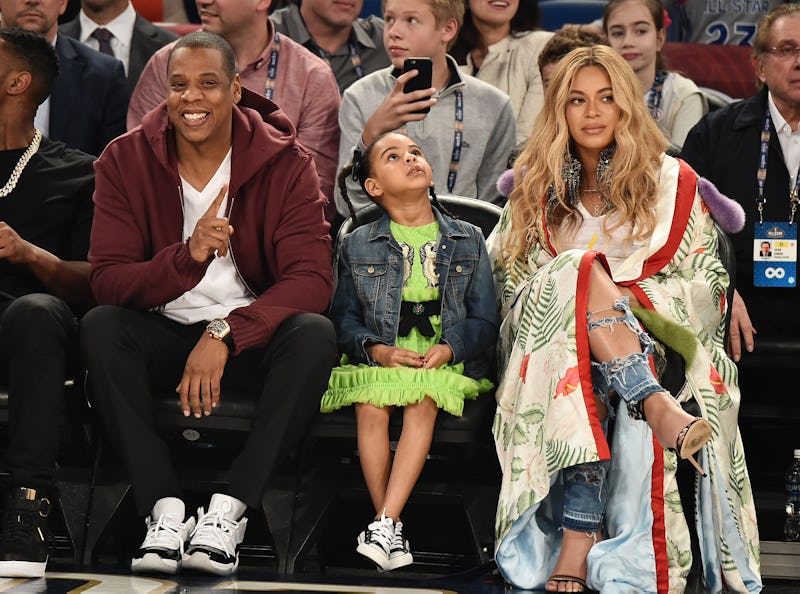 Theo Wargo/Getty Images Entertainment/Getty Images
By now, the whole world has stopped on the news that Beyoncé's twins are reportedly named Rumi and Sir, at least according to TMZ. And, admittedly, TMZ makes a pretty convincing, trademark-based argument for why this might be fact. (Bustle has reached out to the couple's reps for comment, but did not receive an immediate response.) However, the one detail that we don't reportedly know is the genders of Rumi and Sir — specifically, which name is for which baby. Right now, many fans are running with the idea that Rumi is the name of the female twin and Sir is the name of the male twin, but should we be making that assumption?
UPDATE: According to copies of the twins' birth certificates obtained by TMZ, Sir is a son, and Rumi is a daughter.
EARLIER: The reasoning seems sound enough. In the United States, "Sir" is a polite title usually given to a man (the female version of which is typically "ma'am"). So, obviously, that's probably the name of the male twin, while "Rumi," by default, is the name of the female twin. Obviously. But would Beyoncé and Jay Z be so obvious in their name choices? After all, up until now, the world was assuming that they would follow a name like Blue Ivy with predictable names like Shawn and Bea. Why would we now assume that Sir would obviously be a boy and Rumi a girl? Honestly, it makes more sense for it to be the other way around.
Here's one argument against the common thought: Rumi is also the name of a poet. Jalāl ad-Dīn Muhammad Rūmī, best known as simply Rumi, is a controversial 13th-century Sunni Muslim poet — a controversial 13th century male Sunni Muslim poet. Sir, meanwhile, is unquestionably historically used to describe men in power, but it would be just like Beyoncé and Jay Z to challenge the status quo by turning it into a unisex name for their baby girl. In fact, I find that a lot easier to believe than that they'd want to call their son "sir" all the time.
If these baby names are the real baby names, then the Carter family is giving the world a lot to talk about — so why not one more thing? The woman who sang that girls run the world and the man who dropped 4:44, a reflection on black culture, just Friday morning could very well be using these baby names to challenge the world's perception of gender stereotypes. They could very well be saying that, from this day forward, Sir's no longer just for powerful men — but for powerful people in general. And that's a message that I think we can all get behind.
So, while it's all fun and good to take this rumor and run with it until Jay Z and Beyoncé give us different names, let's not let our preconceived notions about gender close our minds to this hilarious image: Beyoncé's daughter one day looking her teacher in the face and saying, "There's no need to call me 'Sir,' professor."
Or, you know, close our minds to the idea that we as a society have moved far beyond the concept of gendering honorary titles like "sir." Or both.