This Wild Feminist Campaign Is Super Refreshing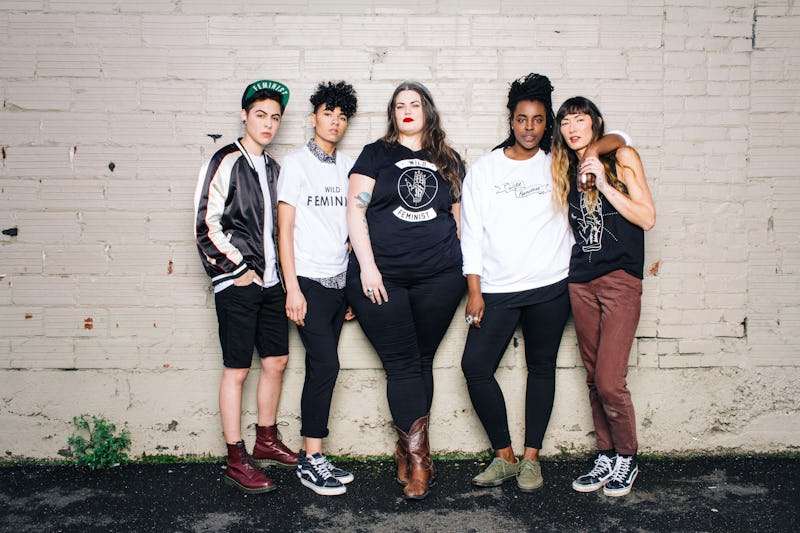 With more brands than ever hopping onto the activism train, a cynical eye is 100% necessary to decipher who's just paying lip service, and which brands are actually adopting the slogans they champion into their brand. You typically know both when you see 'em, but it's a thorny issue we've talked about before — and the recent news coming out about Thinx just demonstrates that these contradictions can run deep. All that said, Wildfang's new Wild Feminist collection is inclusive and refreshing, walking the walk of celebrating diversity. Their slogan reads, "Because feminism belongs to every body," and given the collection, everybody's about to look sick.
Within the Wild Feminist capsule, the brand nailed it with a selection of tees, tanks, bombers and button-downs bedecked with feminist symbols, but the brand's model choices are their real star player. Wildfang notes that they made a conscious effort to live the message by "shooting ALL of our private label Wildfang products on a range of body types, to embrace and hero diversity." Above and beyond, because it's one thing to celebrate diversity as a one-off, and another to make it the norm. An aside: these Woman Cards — *chef kissing fingers.* And the Michelle Obama pin. I mean.
The line's permanent clothing is excellent as well, with options that unite interesting fabrics with cuts that morph to the wearer.
Dubbed with celeb-reminiscent names like "The Shawkat Shirt," "The Malek Trouser," "The Davis Blazer" and "The Chopra Shirt," below, ten percent of proceeds from all Wildfang products go to Planned Parenthood and the ACLU.
The line is priced around J.Crew level, ranging from $5 for an iron-on patch to $168 for a leather-patched blazer. The Woman Cards are an admittedly steep $20, but necessary.
Also, a quick second to realize what a smart decision this was. Beyond celebrating and empowering people of all sizes and colors as the gorgeous models they are, it's just a smart move to show shoppers how clothing will *actually* look on their bodies. Why did this take so long? Who knows.
But at least it's here now.
Images: Courtesy Brand