'2 Dope Queens' Season 2 Isn't For Sure, But Its Stars Are Down To Do More TV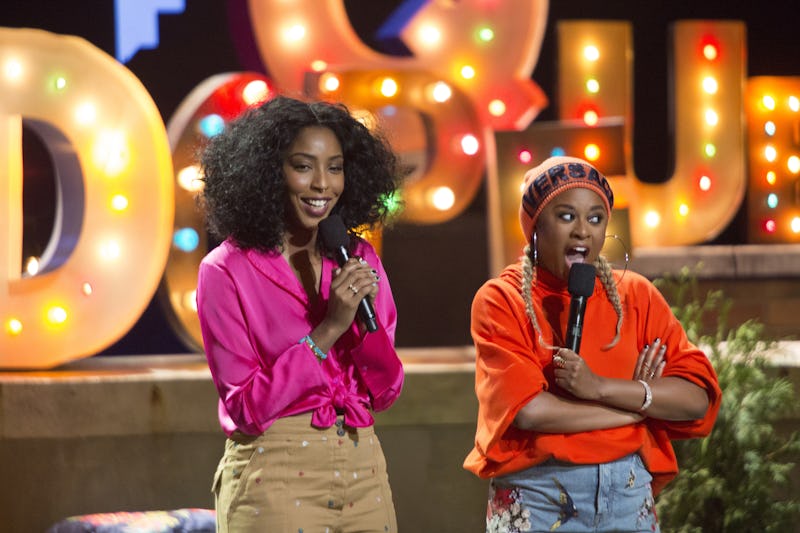 Mindy Tucker/HBO
Comedians Phoebe Robinson and Jessica Williams are individually hilarious, and even more so when they team up. The two comedians joined forces as co-creators and hosts of their podcast turned HBO series 2 Dope Queens (director: Tig Notaro). But after the finale special on Feb. 23, will 2 Dope Queens return for a second season? The specials are designed to be freestanding and totally episodic, so there's no plot to worry about. But unfortunately, it sounds like the biggest thing in the way of more comedy specials from this duo is how beloved and popular the titular queens already are. It seems that almost every single person involved with this series has already been tapped for additional projects that should be keeping them extremely busy for the next year.
But that doesn't mean they're not interested in pursuing more episodes, according to Robinson's comments to Bustle at the Sundance Film Festival. "I would probably want to do another batch of episodes," she says. "I think that could be cool. We'd definitely love to come back and work with HBO because it's a true dream."
So if there is more 2 Dope Queens (executive producer: Chenoa Estrada) coming, those new episodes will probably be on the premium cable network as well. It's also possible that the show many not return quite as it is, but that Robinson and Williams will wind up back on HBO in a different format. "I think we really lucked out that like so much of what we do has only been enhanced with like the cameras, like with the physicality [of our comedy], and so I'm like yeah, let's do more TV stuff," Robinson tells Bustle. Perhaps they'll re-team for a scripted series instead.
But in the next year, with so many different roles and jobs, the two might genuinely not be in the same place long enough to plan and film four more live shows. But that is good news: the fact that this team is so busy means you can see them working on different projects all year long. Robinson told Vulture that the 2 Dope Queens podcast is "on hiatus" right now because of their packed schedules. But she told Splitsider that new season of of her solo podcast, Soooo Many White Guys, will kick off on Feb. 27. She also mentioned Ibiza, "a great road trip girl power movie that I'm really pumped about" that's being produced for Netflix, per Deadline, and her second book, Everything's Trash, But It's OK.
Meanwhile, Williams is co-starring in Fantastic Beasts: The Crimes of Grindelwald, the latest in the post-Harry Potter spinoff film series. In September 2017, Showtime bought a TV project from Williams and Jim Strouse about a young sci-fi writer living in New York, according to Deadline. Even the special's director, Tig Notaro, is busy. She's a successful standup comedian and onetime creator and star of series One Mississippi, which was cancelled by Amazon (as was I Love Dick [executive producer: Jill Soloway], which costarred Robinson). But she's moving on, co-headlining Austin's Moontower Comedy Festival later this year.
So more comedy from this duo may be a long time coming. But with all of these other exciting projects in the works, you won't be missing Williams and Robinson. And don't worry — they'll find their way back to one another eventually, whether it's for 2 Dope Queens (head writer: Amy Aniobi) or some other project, because their creative relationship is so strong. "This is a once-in-a-lifetime connection," Williams told Vox. And as Robinson tells Bustle, the podcast and series are passion projects. "It's my baby and I love it so much," she says. So do their fans.
Additional reporting by Kelsea Stahler.