Why The 'Mamma Mia!' Franchise Might Not Be Ending Just Yet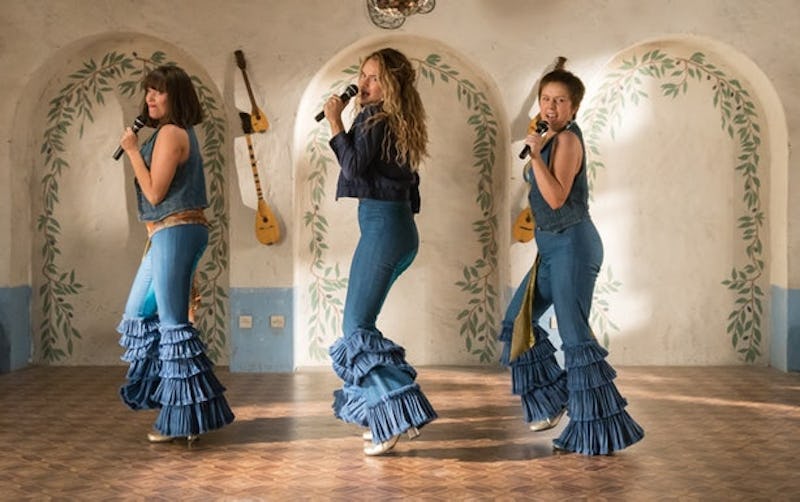 Universal Pictures
Mamma Mia! was a huge hit when it was released in 2008, earning a monstrous $610 million at the worldwide box office off of a tiny $52 million budget and becoming the highest-grossing live action musical ever until last year, when its record was broken by Beauty and the Beast. So it's no surprise the film earned a sequel. What is surprising is that it took ten years for said sequel, Mamma Mia! Here We Go Again, to arrive in theaters. But now that it's finally here, it seems logical that a third installment could also be on the way. So will Mamma Mia! 3 happen, and if it does, will it be another decade before fans get to see it?
As of right now, it doesn't appear that there are any plans for a third Mamma Mia! film. That's not too surprising either, as frankly, it's impressive that a second Mamma Mia! movie ever got made, despite its success. See, the first Mamma Mia! movie is not an original story. It's based on the stage musical of the same name, which in turn is based on the music of Swedish '70s pop group ABBA. The idea for the play was first conceived by British theatre producer Judy Craymer, who hired playwright Catherine Johnson to pen the script and convinced ABBA songwriters Björn Ulvaeus and Benny Andersson to contribute their group's music. The play debuted on London's West End in 1999, where it still runs today, and currently ranks as the fifth longest-running show in West End history, according to officiallondontheatre.com.
Mamma Mia! the movie closely follows the plot of the musical, telling the story of of Sophie, her mother Donna, and her curiosity over the identity of her father. And since the play has no sequel, that means Mamma Mia! Here We Go Again had to come up with its own plot from whole cloth. Universal Pictures, the studio behind the films, naturally expressed interest in creating a sequel immediately after the original film due to its success. But producing the sequel without a play to base it on proved troublesome, as Universal's original plan was for Craymer and Johnson to come up with material for the sequel, the studio's then-cochairman David Linde told the Daily Mail in 2008.
Apparently, getting the stars to align for those involved with the original musical to come on board for the sequel took some time, but it ultimately worked out. Craymer is one of Here We Go Again's executive producers, while Johnson contributed to the film's story with director and screenwriter, Ol Parker. Andersson and Ulvaeus also returned to contribute new ABBA music and serve as executive producers, according to Deadline. It also presumably took some time to reunite the cast from the original film, which is full of heavy hitters like Meryl Streep, Pierce Brosnan, and Colin Firth. The entire main cast is back for the sequel, and negotiating the contracts of all of these big stars could not have been easy. Therefore, it's no surprise it took ten years for the Mamma Mia! sequel to get made.
Will there be a Mamma Mia! 3? Given how long it took to create just one sequel that kept the creative minds behind the original musical involved and also managed to bring back the entire beloved cast, it doesn't seem likely. Then again, if Mamma Mia! Here We Go Again goes and makes another half-a-billion dollars at the box office, then you can bet Universal will at least try and see if a third installment is a possibility. Though whether or not they'll be able to get a third movie made is anyone's guess.