Why You'll Be Seeing A *Ton* Of Ariana Grande Soon, Even If She's Not At The PCAs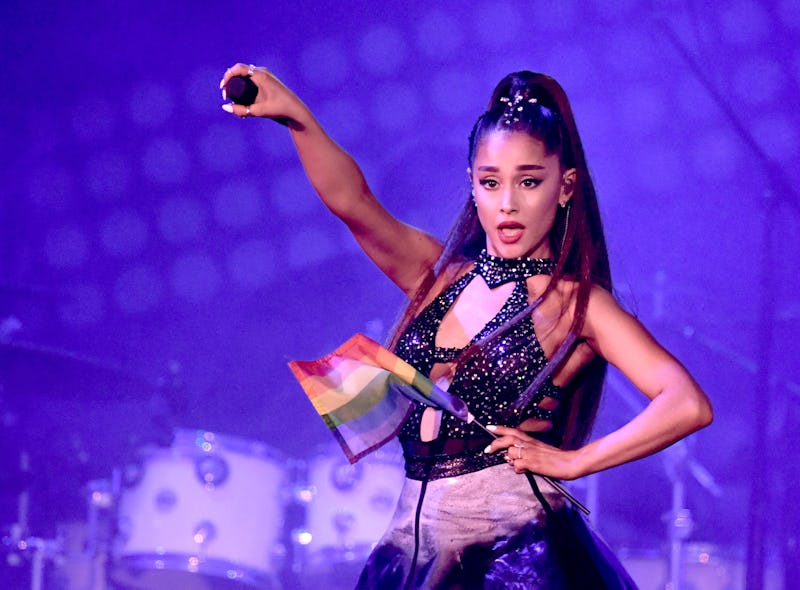 Kevin Winter/Getty Images Entertainment/Getty Images
The people have spoken, and they have determined that "Thank U, Next" is a certified bop. Oh, and the people have also nominated Ariana Grande for four People's Choice Awards. However, considering the "Sweetener" singer's whirlwind year, fans are likely wondering whether Grande will be at the 2018 People's Choice Awards, or if she'll be skipping to hang with Piggy Smalls — or, you know, work on her album. One of the two.
The "Breathin'" performer has yet to announce whether she'll be attending this year's ceremony, but if she does decide to come, she's likely to leave with some more wins under her belt. Grande is tied with Selena Gomez for the most PCA nominations for a woman, including nods for Song of 2018 for "No Tears Left to Cry," Album of 2018 for Sweetener, and Music Video of 2018 for "No Tears Left to Cry." Her biggest nomination is for Female Artist of 2018, along with other musical giants Taylor Swift, Beyoncé, Cardi B, Camila Cabello, SZA, Nicki Minaj, Selena Gomez, Carrie Underwood, Pink, Jennifer Lopez, and Dua Lipa. Suffice it to say, she's in good company.
But fans of Grande might not want to get their hopes up that the pop star will be there to receive her awards, as she's been more than a little bit busy lately. Her highly publicized engagement to Pete Davidson ended suddenly this month, and she responded by releasing the world's best breakup anthem, "thank u, next" (which immediately became a meme sensation). If all of that wasn't enough, she's also likely still mourning her ex-boyfriend, Mac Miller, who died in September. And she has reportedly been working on a new album. She tweeted recently that she and her team were still putting the finishing touches on her new music, but if things continue at this pace, it should arrive sooner than later. So, yeah, Grande may have bigger fish to fry than attending another red carpet event.
Still, that doesn't mean she's taking a break from all public appearances. Just this week, Grande sang "Thank U, Next" on The Ellen Show, and even managed to save the performance after stumbling and giggling her way through the second verse. Earlier this month, Grande also stopped by NBC's A Very Wicked Halloween, bringing down the house with her performance of "The Wizard and I." So while she may have no tears left to cry, Grande certainly has more performances left to give.
With new music on the way, it's likely Grande will have plenty of big appearances in the coming months. And even without her, the 2018 People's Choice Awards will be worth watching: Melissa McCarthy is set to receive the honor of The People's Icon of 2018, and the show will feature performances by Nicki Minaj, Rita Ora, and John Legend.
So don't say "Thank U, Next" to the People's Choice Awards just because Ariana Grande does! There will be plenty of chances to see her onstage soon enough.