Ariana Grande's Jokey "No Tears Left To Cry" Tweet Captures Exactly Why Fans Love Her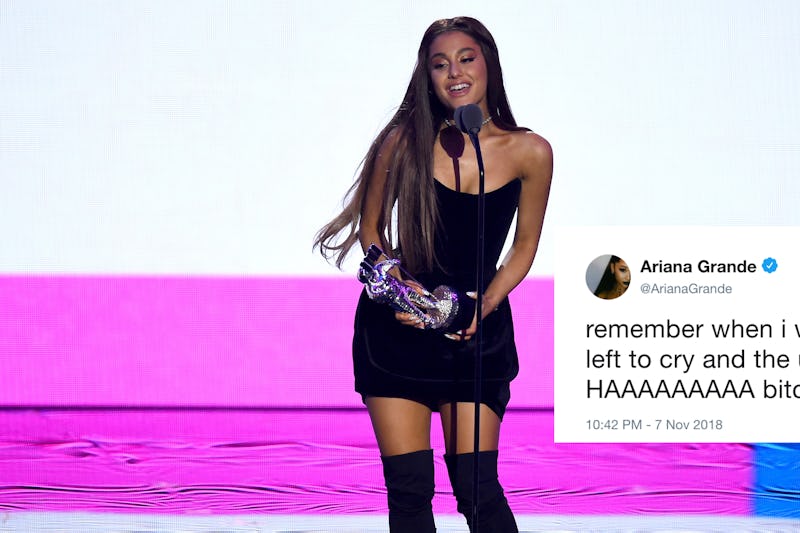 Theo Wargo/Getty Images Entertainment/Getty Images; Ariana Grande/Twitter
Ariana Grande's classic brand of love, light, and honesty was on full display in one of her recent tweets. In that particular tweet posted Wednesday night, Ariana Grande got super honest about an emotional period in her life, and true to form, she did so with a little bit of humor to boot.
Grande has experienced more than her fair share of difficult moments over the past couple of years. But the singer is choosing to keep her head held high throughout it all. She's also opening up to her fans about those hardships with the help of some lighthearted humor. In reference to her popular single, "No Tears Left To Cry," Grande revealed that the song's message may not have been entirely accurate in light of some of the recent events in her life. She wrote,
"remember when i was like hey i have no tears left to cry and the universe was like HAAAAAAAAA b*tch u thought."
In response to her tweet, the Arianators expressed their well wishes to Grande, with many of them telling her to keep "Breathin'." One of her fans wrote an incredibly sweet message, "Don't cry! You're the the strongest person i know Arianators are here for you and we support you forever." Another wrote, in another kind note, "universe has your back bby don't work."
If you follow Grande on Twitter, then you would know that it's pretty much her M.O. at this point to not only be open with her fans, but to infuse that openness with some laughs. Following the release of her new song "Thank U, Next," Grande responded to one of her fans with that classic charm on Nov. 5. The fan wrote, "who is ariana's therapist and are they accepting new clients," likely referencing the singer's ability to channel heartbreak into an empowering hit track.
In her reply, Grande was super into the tweet's hilarity. She also took the chance to actually open up about her experience with therapy in a super honest way. She said,
"lmaoaoo this is funny as f*ck but in all honesty therapy has saved my life so many times. if you're afraid to ask for help, don't be. u don't have to be in constant pain & u can process trauma. i've got a lot of work to do but it's a start to even be aware that it's possible."
It's so amazing to see Grande open up about the issues she's dealing with, especially as it will undoubtedly help others to open up as well.
As previously mentioned, the "God Is A Woman" singer has been through so much in the past couple of years. In such a short span of time, she dealt with the Manchester Bombing tragedy in May 2017, her ex Mac Miller's death in September 2018, and her split from her fiancé Pete Davidson in mid-October.
However, Grande is maintaining a positive outlook on life and staying focused on healing, as she's related to fans numerous times. On Nov. 3, she wrote, "no drags.... no shade..... jus love, gratitude, acceptance, honesty, forgiveness ... and growth." Considering all that she has gone through, it's just so inspiring to see — despite having a few tears left to cry (understandably so) — how strong Grande is as she moves on from past hardships.