How To Support Ariana Grande If She Takes 'Sweetener' On Tour In The UK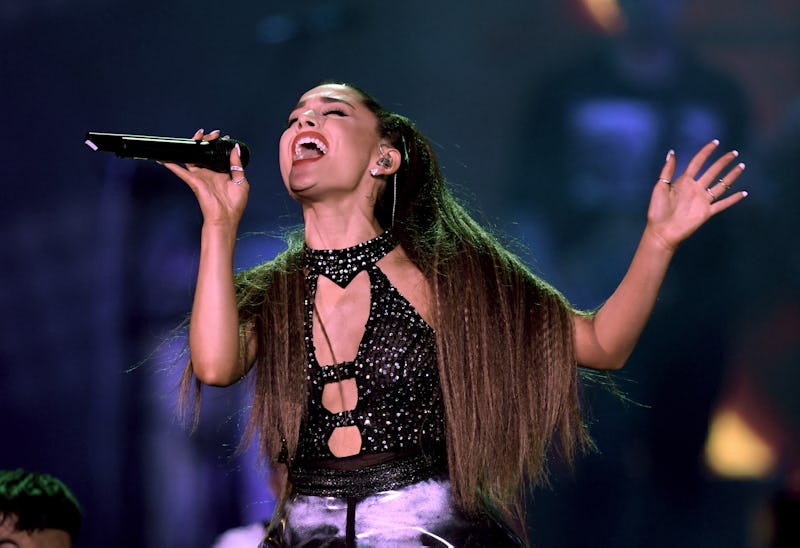 Kevin Winter/Getty Images Entertainment/Getty Images
The anticipation surrounding the release of Ariana Grande's fourth album, Sweetener, is ever building, with just over a month to go until the expected August 17 release date. So far she's released three singles — "No Tears Left To Cry," "The Light Is Coming," and most recently, "God Is A Woman," each with a dazzling music video to match. Now, for Grande fans in the UK, there's two questions that desperately need answering: will there be a Ariana Grande 2018 UK tour, and if so, what can we expect from it?
Though there's no official word yet on a Sweetener UK tour, it seems likely one will take place: after all, Grande brought both her 2015 Honeymoon tour and her 2017 Dangerous Woman tour to the UK, according to the Mirror and NME respectively. Grande fans are confidently anticipating she'll be back on the road: so much so, there's already a fan Twitter account for the Sweetener world tour. (It's worth noting that the fan account, which boasts almost 60,000 followers, predicts the tour will take place in 2019, based on their header.)
It's impossible to consider a Sweetener UK tour, however, without considering the events of 2017: it was on Grande's last UK tour, the 2017 Dangerous Woman tour, that the Manchester Arena attack occurred. After she finished performing at the arena on May 22, 2017, a bomb was detonated in the foyer; it killed 22 people and injured over 800, the BBC reports. The attack had a significant psychological impact on Grande. She told ELLE for their July cover story that she suffered severe anxiety attacks after the event, explaining: "I would be in a good mood, fine and happy, and they would hit me out of nowhere. I've always had anxiety, but it had never been physical before. There were a couple of months straight where I felt so upside down."
After briefly suspending the rest of her tour dates, Grande went on to stage the One Love Manchester benefit concert, which ultimately raised over £18 million to support the families of victims, as NME reports. Opening up about the concert, Grande told ELLE: "Why would I second-guess getting on a stage and being there for them? That city, and their response? That changed my life." Though she told the magazine that returning to the stage was "terrifying", she completed the rest of her world tour. Since then she's continued to pay tribute to Manchester, getting a worker bee tattoo, the symbol of Manchester, to commemorate the one year anniversary, and featuring the bee in her music video for "No Tears Left To Cry."
So what can we anticipate from a potential UK tour? Well, her Dangerous Woman tour also featured dates in Birmingham and London, so we can probably expect her to travel to these cities as well as make what would no doubt be a deeply emotional return to Manchester. However, it's also possible she might expand the tour this time around — maybe a Newcastle, Glasgow, or Liverpool date, and an extended stay in London? Last time, tickets were sold through Ticketmaster, with priority tickets available to O2 customers, according to NME — worth switching your phone contract in advance, perhaps?
On the UK leg of the Dangerous Woman tour, BIA and Victoria Monét opened for Grande, but there's no hint yet as to possible Sweetener tour openers. Considering the featured artists on Grande's latest album — Pharrell, Nicki Minaj, and Missy Elliott, she confirmed on Twitter — can you blame me for getting excited for what she might possibly have planned?
Tour or no tour, there's an awful lot for Grande fans to look forward to in the next few months — not least, that collab with actual icon Missy Elliott. But all signs are pointing to another UK visit, so stay alert, Arianators. Those tickets won't stick around for long.