Ariana Grande's New Video Is Making Fans Emotional With This Subtle Tribute To Manchester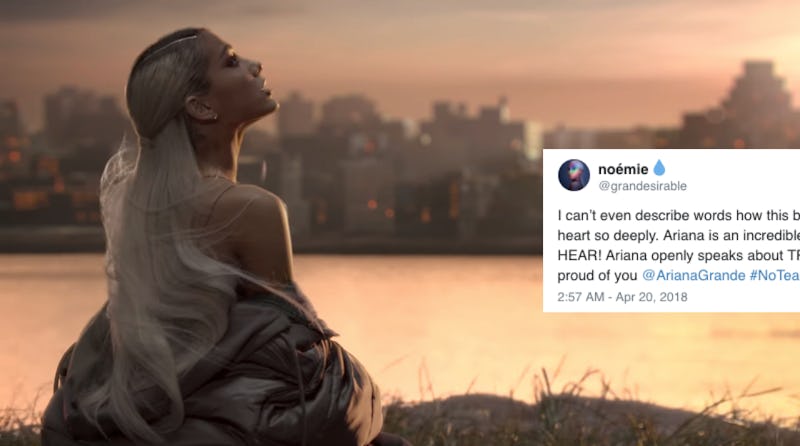 ArianaGrandeVevo/YouTube; grandesirable/Twitter
Ariana Grande's first song since the Manchester Arena attack — "No Tears Left To Cry" — is very likely a reference to her emotional state since the tragedy. And Grande's "No Tears Left To Cry" music video appears to prove the Manchester connection. The futuristic music video for the inspirational, and surprisingly upbeat, song takes place in a cubed world where sometimes Grande is upside-down. At the very end, she throws a ball to her dog, which transforms into a bee. The insect is a symbol of the British city, so many people believe that the bee in Grande's new music video is a Manchester tribute. And fans expressed on Twitter how much this reference to the city stricken by tragedy means to them.
Less than a year has passed since 22 people were killed and more were injured at Grande's concert in Manchester due to the attack, which was later confirmed to be a suicide bombing. After, Grande visited victims in the hospital and she bravely held the One Love Manchester benefit concert to raise funds for the victims' families. The city recognized the American artist by making Grande an honorary citizen of Manchester. She continued her Dangerous Woman world tour in 2017, but has been out of the public eye in 2018. That is until she released "No Tears Left To Cry" on Friday, April 20.
The song is uplifting and focuses on her "state of mind" since she has "no tears left to cry," which is likely how she has been feeling since the incident. And the dog morphing into a bee is symbolic to the citizens of the city since a bee is on the Manchester coat of arms. As the Manchester Evening News explained, the worker bee became a symbol of Manchester during the Industrial Revolution. The city's textile mills were referred to as "hives of activity" and the workers in them as "bees."
A source told Us Weekly in June 2017 that Grande reportedly got a bee tattoo, along with some members of her tour, in honor of the city. And even if that's not true, she evidently paid homage to the city in the final moment of the "No Tears Left To Cry" music video.
The reactions on Twitter show just how important it was to fans that she included the bee. And it was even more meaningful than some people may have initially realized since fans pointed out that it actually looks like it's Grande's dog Toulouse who becomes the bee, which gives it an even more personal touch. This direct reference emotionally impacted many fans and they let their feelings show on Twitter.
Manchester Citizens Appreciated It
This fan from Manchester personally thanked Grande for the gesture and said how the city will always love her.
Simple But Perfect
Fans thought the simple reference was packed with meaning, which made it "perfect."
"What We Needed"
A fan who appears to have been at the Manchester concert also thought the homage was "perfect" and said it was exactly what she and others affected by the bombing needed.
It's Uniting
"Music is meant to unite us," one fan wrote, which is particularly moving considering how the bombing was an act that was intended to divide people.
"My Heart Belongs Completely To Ariana Grande"
Fans recognized Grande for standing by Manchester.
Hearts Were Warmed
While Grande's first song since the attack could have been tragic, she managed to fill people's hearts with love.
She Touched Souls
This fan said the bee touched her soul and heart.
Fans Still Have Tears To Cry
Even though Grande sings that she isn't crying anymore, her music video has moved other people to tears.
Besides the bee, one fan questioned if the skyline that Grande is sitting in front of is supposed to be Manchester. But with the bee in "No Tears Left To Cry" music video, there's no doubt that Grande recognized the city — and that her outpouring of love for Manchester has brought some comfort to her fans.