How Arizona Could End Up Back With Callie On 'Grey's Anatomy'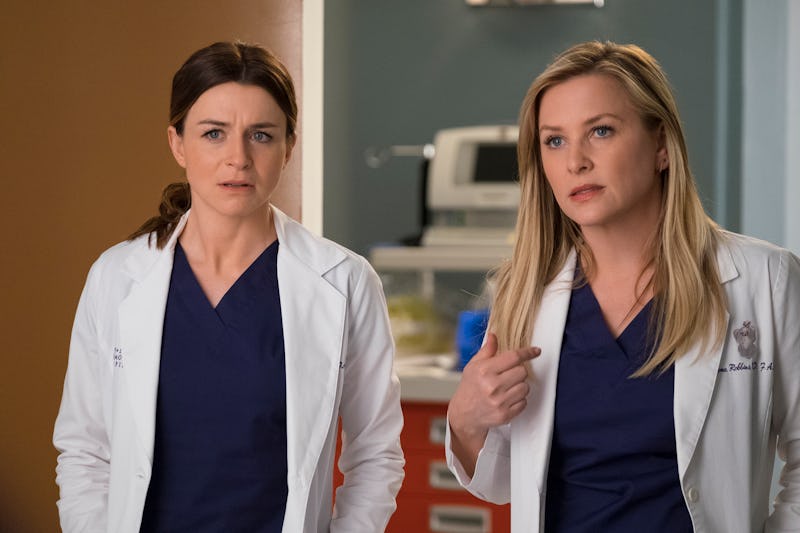 John Fleenor/ABC
Viewers are still reeling from the news that April Kepner and Arizona Robbins are leaving Grey's Anatomy, and right now, they're trying (myself included) to figure out how these much-loved characters are going to end their respective tenures on the show. April might die on Grey's Anatomy, but Arizona's story is much more open-ended. She's done a lot in the past few seasons, and so she has plenty of options. Will Arizona move to New York on Grey's Anatomy?
It wouldn't be totally out of place if she did — a bitter fight between Callie and Arizona over their daughter, Sofia, resulted in Arizona getting sole parental custody. Once the dust settled, Callie and Arizona worked it out that Sofia would live part-time with Callie, and so she's been in New York with her mom, going to museums and walking in Central Park and having a grand old time. Sofia came back to Seattle for a spell in Season 14, and while it was great for Arizona, it wasn't so successful for Sofia. Soon after she arrived, she missed her friends, her school, her other mom, and her life in general in the Big Apple. Sofia wants the East Coast because even though one of her parents lives in Seattle, that's where a huge percentage of her life is.
Arizona could be the one to change that and make Sofia's life 100 percent in New York City. Although Arizona hasn't said on Grey's Anatomy that she wanted to leave Grey Sloan and move to New York, she loves her daughter and wants her to be happy. Arizona is a world-class surgeon and could easily get a job at any of the amazing hospitals in New York City. Arizona's time at Grey Sloan is drawing to a close — she's taught Alex Karev to do everything she can do, and he's well equipped — and her services could be needed in NYC, in both the personal and professional sense. And, while in New York maybe she can rekindle things with Callie. Arizona did accidentally mention her while high on weed. Clearly Calzona is still on her mind.
Of course, there are a few things that could keep Arizona from devoting herself full-time to New York. The first is the new seed of her maternity mortality kit. By simply keeping a cart of certain emergency items on maternity floors, Arizona has figured that she'll be able to greatly slash maternal mortality rates when complications arise. This is a big idea that could save many, many lives, and Arizona should do her best to shop it around to companies and hospitals that could package these products as one and tackle maternal mortality around the world.
The other thing that could keep Arizona in Seattle is Carina Deluca. Grey Sloan's newest gynecologist is also Arizona's newest love, and things seem to be picking up between the two. But Carina's research time in Seattle is nearly up, and it's been hinted that Arizona could follow Carina back to Italy to do research there. They could even work on this cart together to bring it to other hospitals. If Arizona chooses to follow her heart and be with Carina, that's understandable. Arizona needs a little bliss in her life. She's been through enough.
Clearly, Arizona has plenty of options for what's next, but the powers that be at ABC haven't given a hint one way or the other about where Arizona will go. Of Arizona's and April's departures, Grey's Anatomy showrunner Krista Vernoff said in a statement, "As writers, our job is to follow the stories where they want to go and sometimes that means saying goodbye to characters we love." Hopefully, the writers of Grey's Anatomy give Arizona the dignified goodbye her groundbreaking character deserves, whether that means moving across the country, across the world, or staying put in Seattle.