'Atlanta' Fans May Be Waiting A LONG Time For New Episodes Of The Modern Classic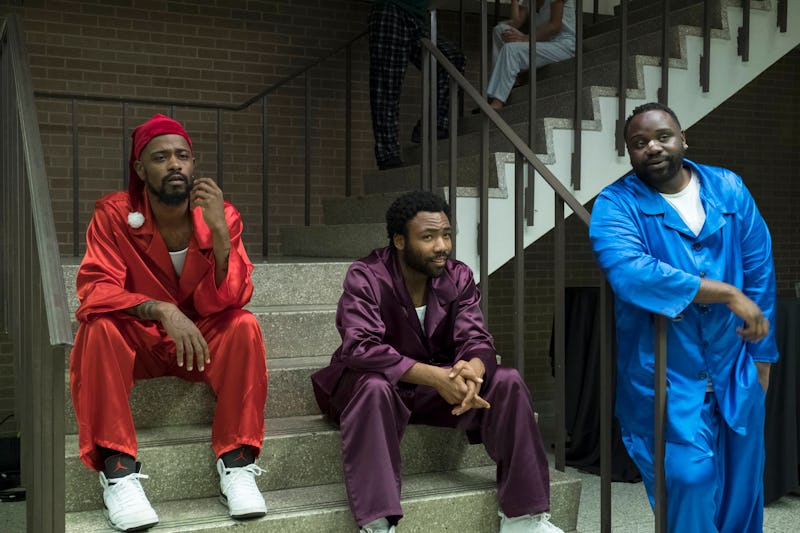 Guy D'Alema/FX
Atlanta's second season has been a wild ride. The show combined the literal meaning of "robbin' season" with fear, hopelessness, and emotional ramifications of loss in each character. As the May 10 Season 2 finale approaches, there is no confirmation that Atlanta will return for Season 3. But but the Emmy award-winning show is as artistic and important as ever, so the story will likely continue — when, however, is really anyone's guess.
UPDATE: Per The Hollywood Reporter, FX has renewed Atlanta for Season 3. No premiere date has been announced.
EARLIER: At the end of this season, Earn (Donald Glover) is still struggling to find and fulfill his life's purpose after he took a few L's. Van (Zazie Beetz) ended their situationship; his cousin Alfred "Paper Boi" Miles (Brian Tyree Henry) fired him; he's still basically homeless; and he even lost the money from Darius' dog-breeding scheme. Darius (Lakeith Stanfield) witnessed a bizarre murder-suicide after trying to buy a piano. And, Paper Boi is dealing with the unexpected pitfalls of his newfound fame as he constantly reevaluates what it means to "keep it real." But, there is still a lot of uncover in their daily lives.
If Atlanta has a third season at all, fans may have to wait a while for it. The break between the first and second seasons was nearly a year and a half due to creator/writer/actor Donald Glover's busy schedule. Glover is releasing thought-provoking new music and playing Lando Calrissian in the upcoming Solo: A Star Wars Story film. He has a voice role in the upcoming The Lion King remake, and he also welcomed his second child. In an interview with Entertainment Tonight, he talked about taking his time to release Season 2 of Atlanta. "I don't rush my work," he said. "I'd hate to be like, 'It was worth the wait.' You'll decide that."
Glover isn't the only Atlanta actor who has a full plate. Zazie Beetz is on the promotional circuit for her role as Domino in Deadpool 2. As a member of the X-Force, she will likely reprise her role in the untitled Deadpool spinoff about the violent gang of mutants. Digital Spy reports the X-Force movie will start shooting around October 2018 for a 2019 release. And, Lakeith Stanfield stars in Sorry to Bother You alongside Thor: Ragnarok actor Tessa Thompson, hitting theaters in July.
Atlanta fans are more than willing to wait for the show's return to see what happens to Earn and his crew next. This season's episodes have been unpredictable, and almost anything can happen in Thursday's season finale. But, there are a few outstanding questions and storylines that will likely continue next season. Here's what Atlanta fans want to know the most:
What Is Going On With Van?
There is always room for more Van stories. What is her current job situation? Where is her family? Will she really walk away from her relationship with Earn? It would be interesting to learn more about how Van became fluent in German and what she chooses to do with her career.
Will Earn Find His Way?
Atlanta's listless main character can't seem to fix his life. His terrible decision-making skills led to him losing his job as Alfred/Paper Boi's manager and his contentious relationship with newcomer Tracy has Earn unsure of his place in the friendship circle. His cousin has always had his back, but how long will his patience last? Earn had become comfortable with Van being his fallback person in times of trouble, but she wants (and deserves) more than he is willing (or able) to give. He wants to be successful but every plan he has turns into a disaster. It looks like Earn will be lost for the foreseeable future, but Season 3 could begin to change the tides toward his outlook on life and success?
Can Alfred Handle Fame?
Alfred is on the cusp between local celebrity and widespread fame. He has been musing about how to take his career to the next level and still remain as "authentic" as possible. He's uncomfortable with the social aspects of being a public figure yet he wants the money, attention, and notoriety. A Season 2 finale preview shows him traveling overseas with Earn and Darius for a meeting so he is making major moves, but is he ready for what comes next?
What Will Darius Do Next?
If Earn is Atlanta's most frustrating character, then Darius is the most entertaining one. His unique perception of reality, hilarious quips, and sometimes brilliant commentary on life makes him stand out every time he is on the screen. His motivations and purpose are more nebulous than his friends, making him the perfect wild card. Darius next move can never be anticipated.
Atlanta's characters are all fascinating and constantly evolving. Season 2 helped further develop their individual journeys and it feels like this already legendary series is just getting started. Hopefully, fans will get another season to continue peeling back the complex layers of the ATL.