A Bachelor Nation TV Wedding Could Be In The Stars For Becca & Garrett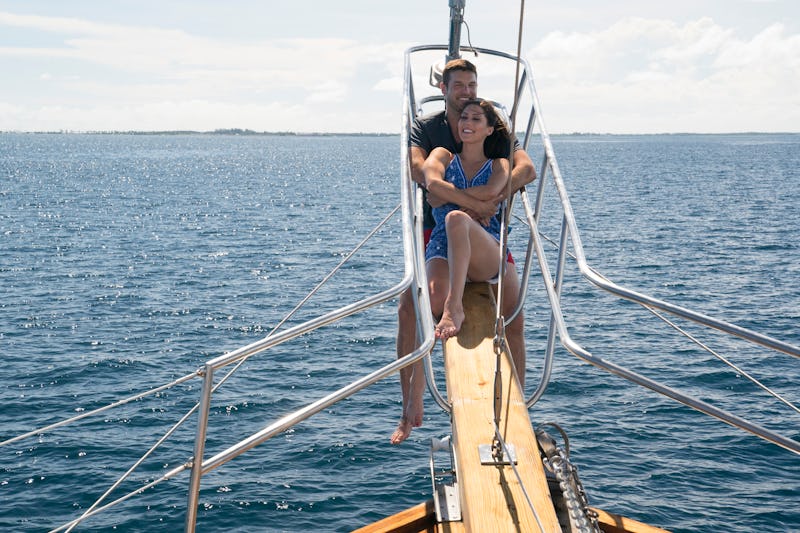 Paul Hebert/ABC
Spoilers ahead for The Bachelorette season finale. Now that Becca has officially chosen Garrett, you might think that speculation about their relationship is over. But that's not so! They're engaged now, and that means a wedding is inevitable — so will Becca and Garrett get married on TV?
Becca said on the After The Final Rose live finale that they aren't sure just yet about any wedding plans. "We don't have any wedding plans yet, we just wanna be able to be normal and in public," she said. "We're just so excited." A televised wedding might make sense for the two in some ways — people are obviously invested in Becca's happiness, especially after she was the main casualty of Arie Luyendyk, Jr.'s fiasco of a Bachelor season. But it would also make sense if the newly engaged couple would want to lay low for a while.
Becca has said time and time again that what's most important to her in life is family — perhaps she'll opt for a more private, personal ceremony to honor that kind of atmosphere. Plus, having cameras (and an entire country) watching your every move can't exactly be relaxing. Especially with the continuing controversy surrounding Garrett's social media history, and the fact that some fans soured on him for good, a break from the public eye might be what they choose to go with.
The idea of a televised wedding is nothing new for the Bachelor franchise — there's even one reportedly in the works from last year's Bachelorette, Rachel Lindsay, and her final choice, Bryan, according to People magazine. The couple told the outlet that they were toying with the idea of a televised wedding, and just waiting on the word from ABC. Though it's not something they feel is essential for the big day, they apparently think it'd be a gift to fans who have seen their journey unfold.
"I never thought I would have a big wedding, I always thought that when I get married it would be a small, simple ceremony, and then have a big party afterward," Rachel continued in the same piece. "Now, I'm thinking, if the network is paying for it, I want a great band performing." Not a bad idea, right?
Becca and Garrett would likely enjoy the same perks any ABC sweethearts would if they chose to hand wedding planning duties over to producers. But fans will just have to wait and see, no matter how invested they may have become in Becca's journey thus far. Given the fact that she and Garrett will probably want to spend time getting to know each other even more (without cameras and producers around), a wedding date could be many months or even years in the future. Remember, it's been a year since Rachel's time as The Bachelorette and there's still no wedding date in sight.
When and if concrete wedding plans become a reality, public interest may have waned, they may choose to keep things private, or there may simply be new Bachelor Nation drama to focus on. Only time will tell how Becca truly seals the deal on her happily ever after.