Beyoncé Could Make A Surprise Appearance On The '4:44' Tour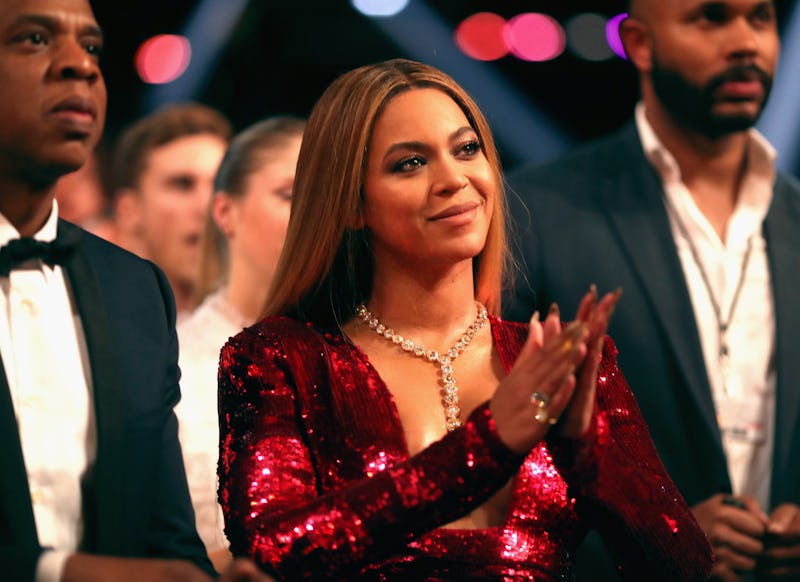 Christopher Polk/Getty Images Entertainment/Getty Images
On Monday morning, fans were delighted to hear that JAY-Z's 4:44 Tour would be coming to an arena near them in fall of 2017. However, whether or not Beyoncé would be on the 4:44 Tour wasn't immediately apparent from the press release. Of course, the chances that she might make an appearance are higher than you might think when you consider how involved she was with the production of the album.
When listening to 4:44, eagle eyed fans noticed that Beyoncé got a credit on the song "Family Feud." The singer is the one doing those background vocals, though, according to JAY-Z, the song is not about their family. "'Family Feud' is about separation within the culture," he told iHeartRadio. "Like, new rappers fighting with old rappers, saying all these things. So, the line is, 'Nobody wins when the family feuds.'" E! News later reported that Beyoncé touched every track on the entire album. Producer No I.D. said,
"I always call Bey our de facto A&R. Pillow talk is the strongest conversation on the planet. Every song has to get past her ears, in my eyes. She came by a lot and played a good part in helping us get over hurdles on certain records. Of course she's genius-level with that."
And, as if that wasn't enough, she was not only frequently mentioned on the album, but also appeared in the recently released music video for "4:44" — although it was in the form of concert footage.
So, with all of that in mind, an appearance by Beyoncé on one of the tour stops wouldn't be the weirdest thing in the world. This album was apparently a co-project between the husband and wife, and their "On The Run" tour did so well that they're about due to share the stage again.
It's unlikely that Beyoncé will appear at every tour stop for a tour that she's not co-headlining, but an appearance at a New York or a California show might be a real treat for fans. And even if she appears in person at none of them at all, the fact that so many lines in so many of the songs reference her could mean that ticket holders could expect the kind of never-before-seen home movies the couple debuted during "On The Run." Or even a video message of some kind.
But, most of all, considering how open they've been about their marriage with Lemonade and 4:44, it would be weirder if the entire tour went by without Beyoncé's presence being felt somehow.