Your Need To Know On Cardi B's UK Tour, Because It Could Be Sooner Than Expected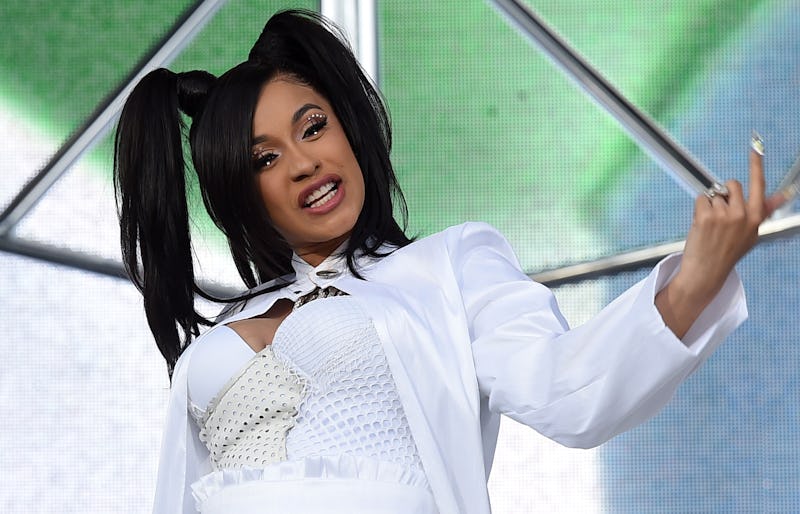 Kevin Winter/Getty Images Entertainment/Getty Images
Since June last year, when Bodak Yellow was first released, Cardi B's career has accelerated into the record books: she's received two Grammy nominations, topped the US album charts, and unseated Taylor Swift from the prime position on the single charts. Her album, Invasion of Privacy, gathered scores of laudatory reviews, and her latest single, I Like It, has dominated playlists across both sides of the Atlantic. But will Cardi B tour the UK in 2018 or 2019? British fans are clamouring to see the queen — and hear that album — in person, so here's everything we know so far.
First off, I'm afraid to say that a UK tour in 2018 seems out of the question. From September to the end of October, according to Cardi's official website, she'll be supporting Bruno Mars on the North American leg of his 24K Magic World Tour, with an astonishing 27 shows lined up in under two months — including four at the iconic Staples Center in Los Angeles.
It's difficult to imagine Cardi not touring in 2019, however, especially given the colossal success of her debut album Invasion of Privacy. In the US, the album debuted at the top spot on the Billboard chart, according to, well, Billboard. In fact, it went gold within minutes thanks to the success of Bodak Yellow, Forbes reports. Meanwhile, on Apple Music, Cardi broke a record once held by pop country singer Swift, according to Variety. After being streamed 100 million times in a week, Invasion of Privacy secured the title of "most-streamed album by a female artist in its first week." Not bad, eh?
The album did pretty damn well in the UK, too, debuting at number six on the official chart, according to Forbes. Indisputable song of the summer (do not contest me on this) I Like It, featuring Bad Bunny and J Balvin, also broke into the top ten — according to Official Charts, it peaked at number eight.
In short, Cardi's something of a big deal over here. As a result, it seems more than likely that she'll tour the UK.
Let's consider potential guests, too: Invasion of Privacy alone features Migos, SZA, Chance the Rapper, Kehlani, and 21 Savage, alongside the aforementioned J Balvin and Bad Bunny. Plus Cardi's high-profile collaborations also include Bruno Mars, Jennifer Lopez, DJ Khaled, Nicki Minaj, and Maroon 5, so she's not short of artists to bring out on stage.
But it's difficult to say a whole lot more about a possible Cardi B UK tour right now. Despite her success, she hasn't launched a major headline tour yet. It's easy to forget, considering the immensity of her fame, that breakout, Grammy-nominated single Bodak Yellow was only released in June 2017 — so, there's not much in the way of precedent to go on.
However, a UK tour would not mark her first performance on British soil. Even before the release of Bodak Yellow, she performed at KOKO London, in April 2017.
She was due to headline this year's Wireless Festival, in London, but pulled out in April after revealing her pregnancy, the Independent reports. Though baby Kulture has since arrived, it's unlikely Cardi's career will slow as a result — on radio show Hot 97, Huffington Post writes, she shut down misogynistic assumptions about working mothers, saying, "Why can't I have both?"
If you want to be the first to know when Cardi does announce a UK tour, you can sign up for ticket alerts on the Ticketmaster website. As soon as tickets become available, you'll be informed via email and won't have to worry about missing out.
But no UK tour announcement as of yet, though I'm holding out hope that illustrious day will soon arrive. Cardi, I declare this confidently on behalf of the entire nation: we're obsessed with you over here. Please, bless us with a tour. Please?