Why 'Luke Cage' Season 2 Could Be The Last You See Of This Ubiquitous Marvel Character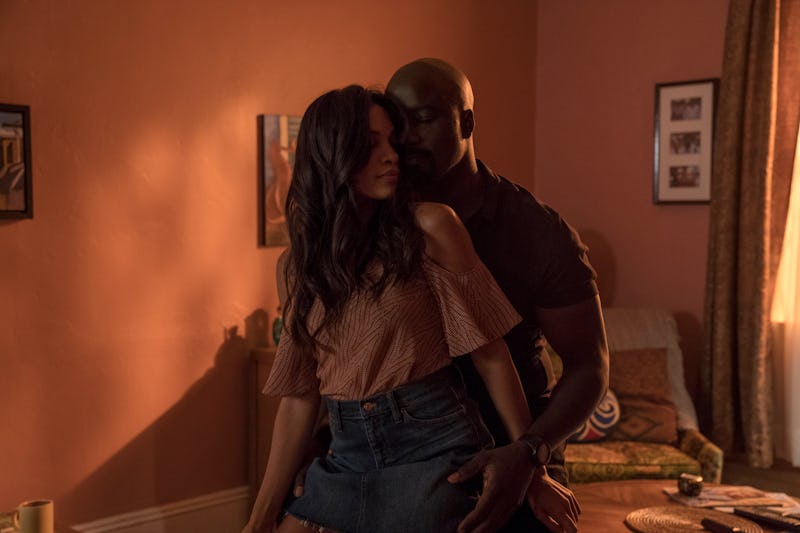 David Lee/Netflix
Claire Temple may have been introduced in Daredevil, but the night nurse has made the rounds on nearly every other one of Netflix's Marvel shows. Rosario Dawson's character shows up in Luke Cage Season 2 since she's still dating Luke, but will Claire be in Luke Cage Season 3? As the sophomore season of Mike Colter's superhero show premiered on June 22, a Season 3 hasn't been announced yet. But what happens in this second season raises questions about Dawson's future with Harlem's Hero. Spoilers for Luke Cage Season 2 follow.
Although she doesn't have superpowers herself, Claire has been the connecting force between the Netflix superheroes who protect the streets of New York City. Along with Daredevil and Luke Cage (in which she was romantically entangled with both leads), Dawson has been on Jessica Jones, Iron Fist, and The Defenders. While Dawson skipped out on Jessica Jones Season 2, the only Netflix Marvel show Claire hasn't appeared in is The Punisher. And with her serious relationship with Luke, it would seem like a no-brainer that she'd be back if he gets a third season. However, Claire decides to leave New York City during the episode "Wig Out" after she gets in a big fight with Luke that turns aggressive.
Claire and Luke start Season 2 happy, but she's quickly concerned that Luke refuses to make amends with his father. She also doesn't approve of how violent he's getting in his pursuit of justice. Claire is particularly troubled when Luke nearly kills Cockroach (one of Mariah's potential gun buyers) after Luke walks in on him physically abusing his girlfriend and son. Sure, Luke still doesn't intentionally kill bad guys, but Claire sees him going down a dark path and tells him so.
But Luke takes issue with what he perceives as Claire meddling in his life. When he finds out that Claire went behind his back and met with his dad, he lets his anger take over and punches her wall. Claire then reveals that she comes from a home of domestic violence, which is why she was so personally upset by the Cockroach situation. She tells Luke that she promised herself that she'd never be in a home with anger again and decides they need to take a break. She chooses to go to Havana to be with her mom and grandmother, leaving Luke without his girlfriend (or his personal nurse) right before his first physical altercation with Bushmaster.
She doesn't appear for the rest of the season. And it's a blow to fans of the pairing when Luke refuses to see her in the finale, set up as he is in Harlem's Paradise as the successor to Cottonmouth and Mariah.
Claire and Luke still love each other, but this fight and Luke's choices might be the end of the couple — and the end of Dawson in the Netflix Marvel shows. As ScreenGeek reported in May 2018, Dawson said at MCM Comic Con in London that she might be finished with the Netflix Marvel Cinematic Universe. "I don't know if I'll be back after this, to be honest, but it's been an amazing few years. I've been on a lot of different shows," Dawson said. She noted that one of the reasons she wanted to wrap up her time with Netflix's Marvel shows is because she wants to be closer to her daughter, who is in high school now.
Dawson did give some hope that she could possibly show up on Luke Cage again — or even another Netflix Marvel show. "I mean, I don't know if maybe they do a third season of Luke Cage potentially or maybe if they figure out some kind of way for me to be on The Punisher — just so I can feel like I've done every show," she added.
With Daredevil and Jessica Jones getting third seasons, it seems likely that Luke Cage will have a Season 3 as well. So there's a chance that Dawson could return. But after Luke and Claire's breakup — and knowing how Dawson is stepping away — don't expect the night nurse to play a major part in any future seasons of Netflix Marvel shows, Luke Cage included.