Why Jerry Seinfeld's 'Comedians In Cars' Needs Another Season (Or 12)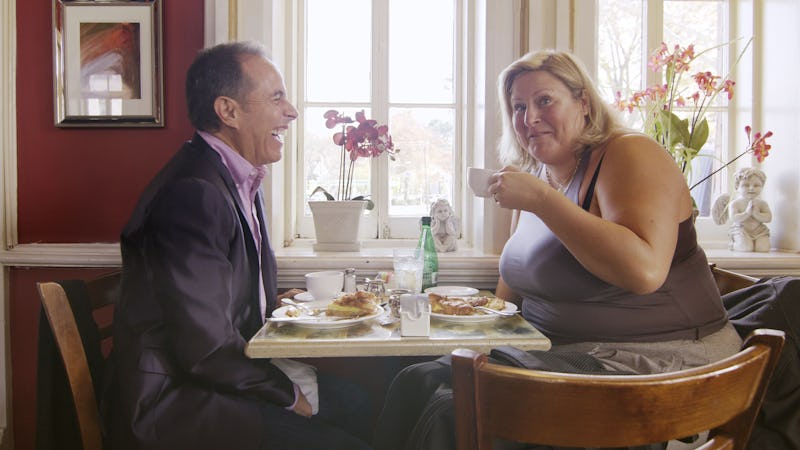 Courtesy of Netflix
When it comes to having a good conversation with Jerry Seinfeld, all he requires is a good cup of coffee and a vintage car. He returns for another season of Comedians in Cars Getting Coffee on July 19, but the fate of his web series is unknown after that. It's possible that Comedians in Cars Getting Coffee might not return for a Season 12 after this latest season. Then again, there are always more comedians to talk to so the lack of news about fresh episodes might just be because they're still in negotiations.
When Seinfeld made a deal in 2017 to move over his web series from Crackle to Netflix, Deadline reported there would be 24 new episodes. Season 10 in 2018 had 12 episodes with guests like Kate McKinnon and John Mulaney, and Season 11 on July 19 will mark the final 12 of that initial deal.
Considering the many iterations of the highly-caffeinated but relatively low-key show since it premiered in 2012, there's definitely a chance that Seinfeld keeps it going. And let's hope so — this season's cast only features two women comics, which is about average when you consider the guests of pasts seasons. There are more than enough funny and whip smart women on the scene for Seinfeld to grab a cup of coffee with and talk shop. Hopefully the next bookings producer sets out to find some for him. Another couple seasons would mean even more chances for him to branch out and meet fresh faces.
But that doesn't mean that the Season 11 guests are anything but hilarious and enlightening, as per usual. Here's who Seinfeld's hanging out with this time around.