Why Netflix's 'Daredevil' Won't Be Going The Way Of 'Iron Fist' Anytime Soon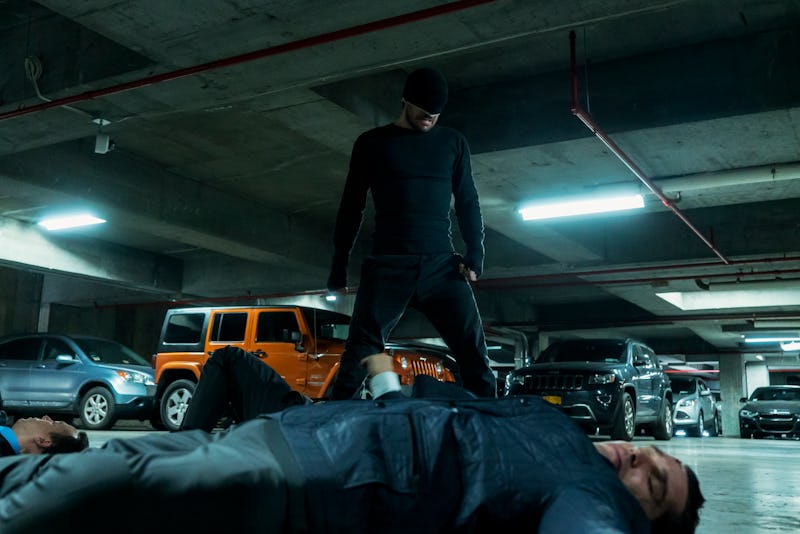 Nicole Rivelli/Netflix
The devil of Hell's Kitchen is back for more brooding action. Marvel's beloved vigilante drama Daredevil returns for Season 3 on October 19 and will probably pick up where The Defenders left off with Matt Murdock waking up in a convent surrounded by nuns after everyone thought he was dead. This season will surely be another compelling ride for comic book fans and Daredevil is expected to return for Season 4, according to Deadline. That's pretty impressive considering that responses to Season 3 have yet to be clocked by fans.
Update: On November 29, according to Deadline, Netflix cancelled Daredevil.
But, if this quick renewal happens, then it will make sense because of the future plans already set by Marvel TV head Jeph Loeb. Comicbook.com reports that the comic giant has ideas for Daredevil Seasons 4-6. This is the norm for Marvel, who often has their movies planned out several years in advance and has been generally winning in the small-screen world with the exception of the now-cancelled Iron Fist series. (Sorry, Danny Rand.)
And, there's plenty of comic material for the gritty series to draw inspiration from for this enduring character. The "resurrection" of Daredevil means this season will start his infamous Born-Again arc from the '80's. During this time, Daredevil loses his grip on sanity and the Kingpin becomes nearly invincible, per CBR.com.
The Daredevil Season 3 trailer confirms that Matt is at a pivotal time in his life. In a voice-over, he admits that he just wanted to help people but he was fooling himself because darkness only responds to darkness. Matt is seen in his all-black street ensemble with his eyes covered as he seemingly kills a few men in the parking lot. It's not clear what caused the fight, but Daredevil was prone to random acts of violence during this turbulent time in his life so there may not have been a reason at all.
Meanwhile, Wilson Fisk a.k.a. Kingpin lies about being rehabilitated in prison and strikes a deal to get out. This is not ideal for Matt/Daredevil because 1) he's in a bad mental space and 2) he definitely promised that he would have an epic showdown with Fisk if they saw each other in the streets.
Predictably, Fisk turns the narrative around and makes Daredevil the city's Public Enemy #1. At the end, a man in Daredevil's suit and Matt in his street fighting clothes are poised to have an epic face-off. It's an explosive ending to a packed trailer and fans can't wait for everything to be revealed when this season drops.
The trailer also shows Rosalie Carbone, the Luke Cage major player who will be featured this season. She's a Mafia boss surrounded by dangerous associates and is unsurprisingly hanging out with Wilson Fisk, which is interesting because she closed a business deal with Luke Cage in Season 2 of his series. This could cause a major problem if the heroes meet again onscreen.
Season 4 of Daredevil is almost certain, but viewers will have to wait until Netflix makes the official announcement. Until then, they have 13 more episodes to binge watch and dissect as Matt tries to find his way back to being the hero of Hell's Kitchen.