Ed Sheeran's Excuse For Missing Princess Eugenie's Wedding Is Absolutely Stellar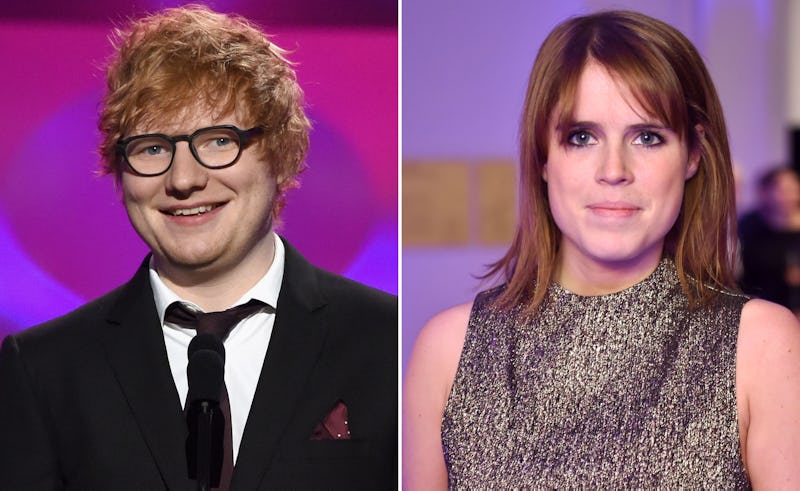 Nick Harvey/Shutterstock/Michael Kovac/Getty Images Entertainment/Getty Images
If you've somehow managed to stay away from the Internet or any newspaper in the past couple of months, allow me to fill you in. Princess Eugenie's wedding to Jack Brooksbank is happening this Friday and it's going to be massive. You see, she's a pretty popular member of the royal family and a bunch of famous faces have reportedly been invited. Although Ed Sheeran sadly missed out on her cousin Prince Harry's big day earlier this year, will Ed Sheeran be at Princess Eugenie's wedding? The pair are apparently super close pals, though it's his friendship with her mother Sarah Ferguson and sister Princess Beatrice that might secure him an invitation.
While covering Princess Eugenie's pre-wedding prep earlier this year, Vanity Fair counted Ed Sheeran amongst "Sarah Ferguson's good friends" and claimed that he had been invited to the wedding. So, has the mother of the bride secured him an invite? Possibly, however, he isn't going to be there either way. A rep for Sheeran tells me, "Ed is not attending the wedding."
However, this is far from a snub. You see, Sheeran is actually in the middle of a tour over in the States. I looked at his tour dates, and although the singer is free on Oct. 12 (Eugenie's wedding), he has to be in Kansas City the following day as he's performing on stage. This means it would be a very tight squeeze for him to jet to London for the wedding and make it back in time for his gig. So, you can't blame him really.
Although Sheeran won't be at the wedding, I have no doubt he'll be spending time with Eugenie and her sister Beatrice after the big day. Apparently, they're all really good friends. In fact, he was at the heart of some hilarious royal rumours recently, involving Beatrice and, rather randomly, James Blunt.
In case you didn't hear the story, allow me to fill you in. During a fun night out, Blunt reportedly asked Beatrice to take a ceremonial sword and mock-knight him, according to The Sun. She then graciously agreed but accidentally nicked Sheeran in the face with the sword after "misjudging the weight of the blade." This is apparently how he Sheeran ended up with the scar that is now on his right cheek.
However, this particular rumour didn't turn out to be entirely true. Blunt set the record straight on what really happened during an interview with ShortList. He said: "Ed was drunk, messing around, and he cut himself. We made a fancy story up; people fell for it. It was very embarrassing."
However, it's not just Beatrice and Eugenie that Sheeran is reportedly friends with. Rumour has it, he's also pretty popular with their cousin Prince Harry. It was even claimed that the young royal asked the singer to perform at his wedding when he married Meghan Markle. According to US Weekly, Harry "personally requested Ed perform at his wedding."
Unfortunately for Harry, Sheeran wasn't able to perform. Explaining why he couldn't at the time, he told the Express: "Everyone's like, 'Oh, he's playing it!' But no one's looked at my tour dates. I'm in Ireland, I can't do it, I haven't been asked either."
While it may not be great news for Eugenie or Harry that Sheeran wasn't able to commit to their weddings, it's only because he was putting his fans first. That certainly can't be a bad thing.