This 'Love Actually' Alum May Not Be In The Sequel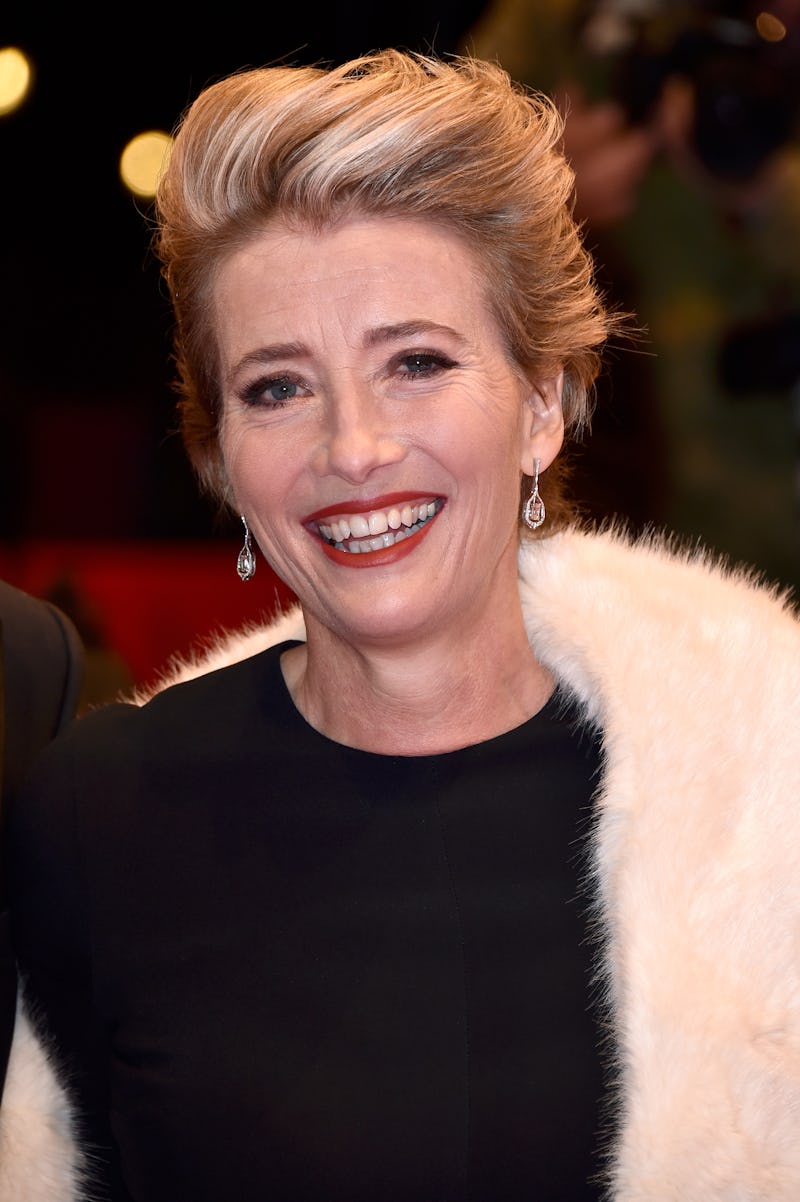 Pascal Le Segretain/Getty Images Entertainment/Getty Images
When Love Actually premiered in 2003, it set a new standard for romantic comedies. The movie had an ambitious plot that intertwined nine different love stories and featured a jaw-dropping ensemble cast, including high-profile names like Keira Knightley, Alan Rickman, Colin Firth, Martin Freeman, and of course, Emma Thompson. The scale of this movie inspired a generation of holiday-themed, cast driven rom-coms (I see you, Valentine's Day and New Year's Eve) and remains a beloved seasonal film. Fans of the movie got some big news on Wednesday, when the British charity, Comic Relief, announced they're producing a short-film sequel to Love Actually. Director Richard Curtis will once again write and produce the romantic comedy, and most of the all star cast will reunite. However, a certain name is missing from the cast list, leaving fans to wonder: Will Thompson will appear in the Love Actually sequel?
Thompson's character in Love Actually is one of the most controversial, as her story doesn't end in hearts and romance. Karen, a loving wife to her husband Harry (played by Rickman), finds out that her husband has given a golden necklace to his secretary Mia. The relationship is left open-ended, but some viewers hoped they patched things up for their kids. However, last year, Curtis' partner Emma Freud revealed during a screening of the film that the outcome for the family was not great.
Since Freud and Curtis finally gave fans answers to Karen and Harry's story, it's possible that they didn't feel the need to bring Thompson back for the role. Of course, Rickman, a legend in his own right, passed away last year, and it also may be out of respect for the late actor. If Karen and Harry stayed together, it might only be right to leave them both out of the sequel.
On the other hand, some have theorized that Daniel, Liam Neeson's character, was secretly in love with Karen. Daniel ends up with Carol, a woman he meets at a Christmas concert toward the end of the film. If Neeson is returning for the sequel but Thompson isn't, odds are things worked out for Daniel and Carol.
Of course, fans would love to find out what happened to Karen. Thompson and Laura Linney are both left off the cast list, which is particularly frustrating, as these two characters met the least romantic fates. Having Sarah and Karen return for the short film would be a chance to remedy some of the harsher plot lines, which are notoriously reserved for the older, more complex female characters.
However, fans will luckily get to check in with most of the cast members, and find out what those characters are up to 14 years later. And, hopefully, get more of this:
Curtis also released a statement on the new short, but it didn't mention anything about Thompson. "I would never have dreamt of writing a sequel to Love Actually, but I thought it might be fun to do 10 minutes to see what everyone is now up to," Curtis says in the statement. "Who has aged best? I guess that's the big question — or is it so obviously Liam? We've been delighted and grateful that so many of the cast are around and able to take part — and it'll certainly be a nostalgic moment getting back together and recreating their characters 14 years later."
Sigh, well it doesn't sound like there are any plans to put Thompson in the sequel, or like Karen will ever be given a storyline that satisfies fans. However, there will be plenty to look forward to in the new short. It airs as part of Red Nose Day in the U.K. on March 24, and then airs in the U.S. on NBC on May 25. In the meantime, you may need to rewatch the original film — just one more time.