Emma Watson Could Show Up At The Women's March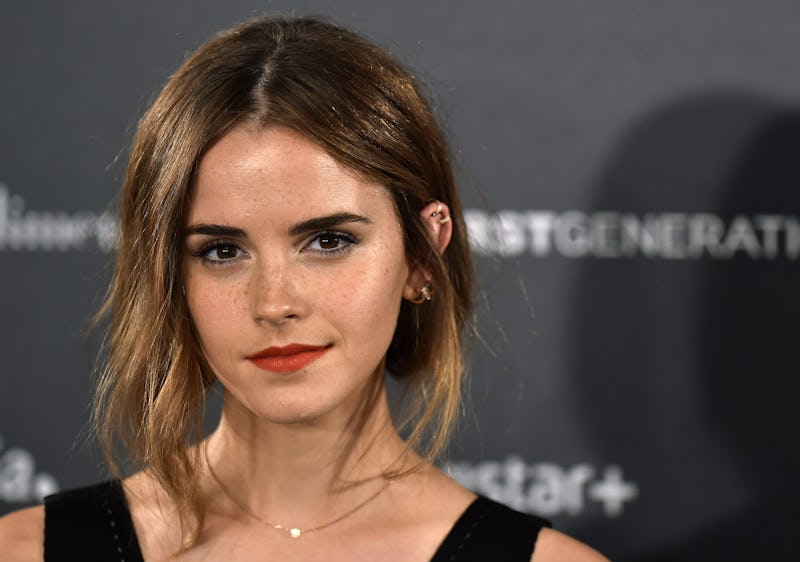 GERARD JULIEN/AFP/Getty Images
Emma Watson has moved far beyond her iconic role as Hermione Granger in the Harry Potter franchise, and she's got huge roles in two new films to prove it. Yet, Watson has become more like a real life Hermione in recent years. She went to college — Brown University, to be exact — and has emerged as a vocal feminist and champion for women across the globe. As such a strong young feminist voice, will Emma Watson be at the Women's March in Washington?
"The Women's March on Washington will send a bold message to our new government on their first day in office, and to the world that women's rights are human rights," the reads the official Women's March Mission Statement. It wouldn't be surprising, then, if Watson, an activist for women's rights, chooses to attend the March. As a UN Women Goodwill Ambassador, Watson helped launch the HeForShe campaign, which aims to foster gender equality across the world. She made a mark on young fans when she delivered a passionate speech about women's rights at the U.N. in 2014, and since then her Twitter feed has been essentially dedicated to advocating for gender equality.
Watson is a strong figure fighting for gender equality, and her participation in the Women's March would be significant, especially because she wasn't adamantly (or publicly) anti-Trump during the election. As a British citizen, Watson could not vote in the U.S., and chose to remain relatively silent throughout the 2016 election on her various social media platforms. It wasn't until late October that Watson seemed to declare any kind of opinion on the election via a statement on Twitter. In her statement, Watson did not mention Hillary Clinton or Donald Trump by name, but her insistence that "the way a man treats women can't be overlooked or brushed aside," seemed to imply her distaste for Trump. "The next president will be able to make decisions about women, about their bodies, about how they are treated at work... about how men treat women and about their rights as citizens," she wrote. "These decisions will affect whether we believe equality is an idea that matters."
After the election, Watson again took to social media to share her reaction without openly naming Trump or Clinton. "I am going to fight even harder for all the things I believe in," she promised her Twitter followers on Nov. 9. Perhaps that fight includes showing up alongside her fellow women at the March.