'13 Reasons Why' Season 3 Could Happen Without This Major Character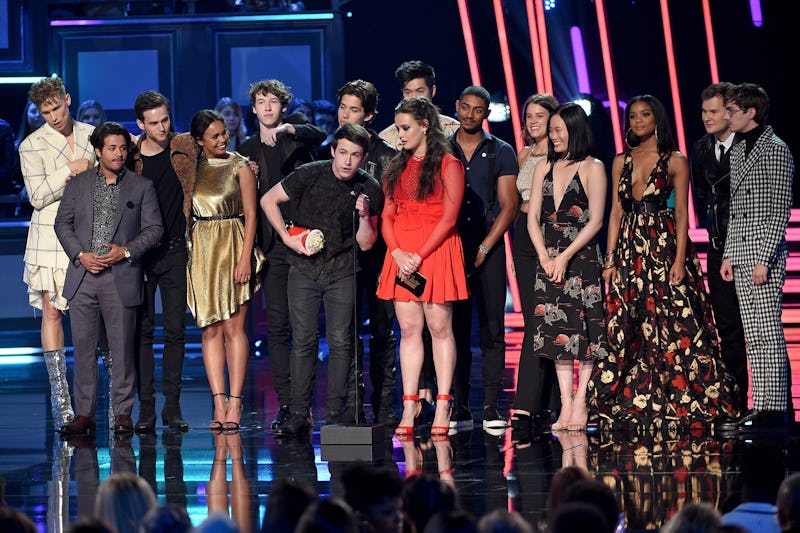 Kevork Djansezian/Getty Images Entertainment/Getty Images
SPOILERS for all of 13 Reasons Why Season 2 follow. Although Season 1 of 13 Reasons Why was very much Hannah Baker's story, she was dead at the start of the Netflix series. In Season 2, she doesn't communicate through her tapes, but she does appear in flashbacks and as a ghostly, talking vision to Clay. But will Hannah be in 13 Reasons Why Season 3? Based on the Season 2 finale, Hannah's fate for any potential future seasons seems clear.
For Season 2, 13 Reasons Why gave the people who were featured on Hannah's tapes the chance to tell their sides of the story. Through these other character's memories and her appearances to Clay, Katherine Langford was able to reprise her role for Season 2. But if there's a Season 3, it doesn't seem likely that Hannah would return. Because unlike at the end of Season 1, Hannah's parents, Clay, and her other friends achieved some closure in regards to Hannah's suicide.
That's slightly surprising considering that Andy and Olivia Baker lost their civil suit against the school. Yet, a funeral service for Hannah in the Season 2 finale — tellingly titled "Bye" — showed how her parents had come to accept their daughter's passing and were ready to move on from fighting for her. That's not to say they will ever forget Hannah, but that they have taken steps to not live their lives in overwhelming grief and anger anymore. And at the memorial for Hannah, they encourage Hannah's friends to be kind to one another and to not let anyone take away their dreams.
But a more clear sign that Hannah most likely won't be in a Season 3 is how Clay says goodbye to her. In the Season 2 premiere, she appears to him as a vision that only he can speak to and see. It's a form of psychosis and her appearances mean that Clay is unable to move on in a healthy way. (It's also one of the reasons why he's unable to have a relationship with his girlfriend Skye.) By Episode 11, Hannah's presence has driven Clay to such an unstable place that he goes to Bryce's house with a gun and threatens to kill him. Thankfully, Justin is able to talk Clay down.
However, even though Bryce doesn't fully face the justice that Clay wants him to, Clay does find some peace in Season 2. He speaks at Hannah's service and echoes the words Skye said when she ended things with him. "A good friend once said to me, 'I can love you and still let you go.' So, Hannah, I love you and I let you go," Clay says. At this point, the other people in the church have disappeared and Clay is speaking directly to his vision of Hannah. After he's finished, she silently walks out of the church into the sunlight.
Based on Hannah's exit, it seems safe to say that if Netflix does move forward with a Season 3 (at the time of Season 2's release, it hadn't been renewed yet), Langford won't be in the cast unless there are more flashbacks. That doesn't mean that Hannah won't still be a presence on the show, it's just that her voice and image probably won't be portrayed on screen.
For instance, Clay is overwhelmed with emotions at the school dance when the song they had danced to — "The Night We Met" by Lord Huron — comes on. But instead of Hannah appearing to him at this moment, his living friends come and encircle him to provide him comfort and support. And unless Netflix states otherwise, this is how fans can expect Hannah to live on in Clay's life — and in any future seasons of the show.
If you or someone you know are experiencing suicidal thoughts, call 911, or call the National Suicide Prevention Hotline at 1-800-273-8255.
If you or someone you know has been sexually assaulted, call the National Sexual Assault Telephone Hotline at 800-656-HOPE (4673) or visit online.rainn.org.