Here's How Bad Hurricane Harvey Could Be For Louisiana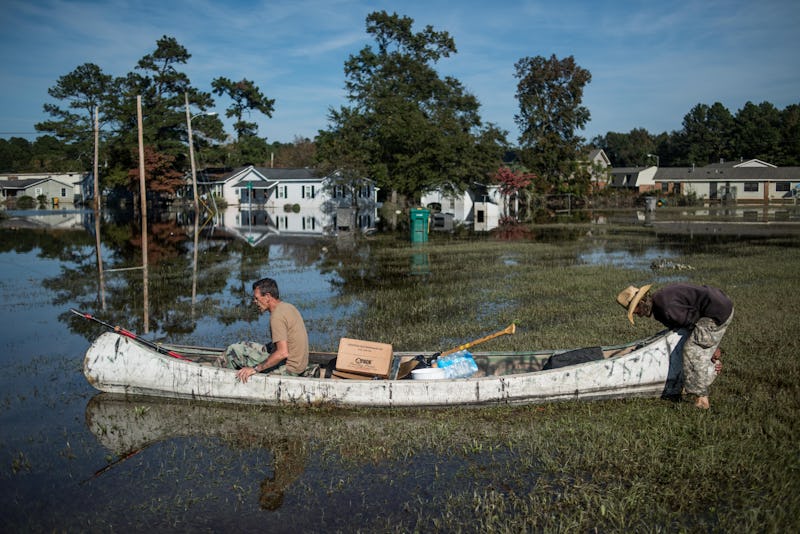 Sean Rayford/Getty Images News/Getty Images
This weekend, after growing from a tropical storm into a tropical depression into a full-fledged hurricane, an enormous storm is headed for the coast of Texas. It's name is Hurricane Harvey, a life-threatening Category 2 storm according to NBC News, one that's prompting mandatory evacuations across several Texas counties. But while the Lone Star State faces the brunt of the hurricane, it's not the only place expected to feel the storm's effects ― for instance, will Hurricane Harvey hit Louisiana, too?
As it stands now ― mercifully, for the residents of the Bayou State ― Harvey is not projected to run directly through Louisiana, although its proximity is expected to bring serious rainfall, and that's a hazard in and of itself. According to The Times-Picayune, the National Weather Service has estimated that the city of New Orleans could see a relatively modest 4 to 6 inches of rain throughout the next week, while parts of Louisiana along the southeastern border with Texas are expected to be inundated, drawing as much as 10 to 15 inches of rainfall.
In other words, based on current projections of Harvey's path, the answer is no. It's not expected to directly hit Louisiana, although given that it will induce heavy rainfall, and given that things can change rapidly with these sorts of meteorological phenomena, it's important to stay vigilant, informed, and to prioritize your safety if you're anywhere near it.
According to the National Hurricane Center, Harvey is expected to make landfall in Texas sometime late Friday or early Saturday. Compared to Louisiana, Texas is expected to be hit with a deluge of rain, in addition to the dangerously powerful winds ― 12 to 20 inches of rain is reportedly expected in some parts of the state, most notably along the southeastern coast where the hurricane is likely to hit, with the potential for 30 inches of rain in isolated areas.
Harvey is expected to be the first Category 2 hurricane to strike Texas since 2008, when Hurricane Ike rose up from the Gulf of Mexico. In the event it grows into a Category 3 before making landfall, which is reportedly still very much a possibility, according to NBC News, then it would be the strongest storm to hit the United States since Hurricane Wilma in 2005.
Of course, the most devastating hurricane in recent memory, as far as human lives and urban infrastructure are concerned, was the catastrophic Hurricane Katrina in 2005. Luckily for the residents of New Orleans, it doesn't appear Harvey is going to be a direct hit like Katrina was 2015. That storm killed more than 1,200 people, and did more than $100 billion in damages, on top of the incalculable social cost.