Here's Why Houston Residents Shouldn't Worry About Hurricane Irma For Now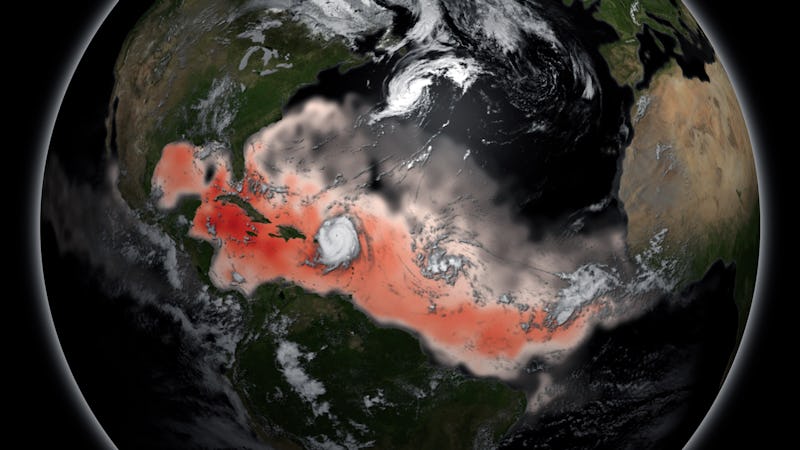 Handout/Getty Images News/Getty Images
It would just seem unfair if Houston were to suffer hits from two major hurricanes in the space of under three weeks — and thankfully, current predictions say that America's fourth biggest city will not have to undergo that experience. As of right now, it looks like Hurricane Irma will not hit Houston — but there are still several paths that it could take, so nothing can truly be ruled out at the moment.
Irma, currently a Category 3 major hurricane, is very likely to increase to Category 4 level by the time it makes landfall in the Leeward Islands of the Caribbean by Wednesday. The islands most directly in Irma's predicted path are Antigua, Barbuda, Anguilla, Montserrat, St. Kitts, Saint Martin and Nevis, all of which are now hurricane watch and could start seeing the effects of the storm as early as Tuesday.
The National Hurricane Center's prediction tools are less definite more than about three days out, though, so experts have been unable to make any concrete predictions past about Thursday. Cuba, Puerto Rico, and the continental U.S. are definitely in its potential path, though, so hurricane preparations should not be limited to the Leeward Islands. The state that Irma is most likely to impact is Florida, and another prediction could have it continuing up the East Coast along the coasts of Georgia and the Carolinas.
Florida Gov. Rick Scott has already begun preparing for a potential strong hit from Irma, tweeting out advice to Floridians to prepare for the storm with disaster kits. Accuweather offers three of Irma's most likely paths, and two of them would at least brush Florida's coast, so it makes sense for the state to start getting ready now.
None of their potential paths guesses that Irma will make it far enough across the Caribbean into the Gulf of Mexico that it would threaten Houston, however. As large parts of the city are still flooded, this is very good news. There is also still a chance that Irma will turn north after hitting the Leeward Islands and miss the East Coast entirely, which would spare the country from being hit by two Category 4 storms in such a short period of time.
Fortunately, all eyes are focused on Irma, so the places where it makes landfall should at least have some time to get ready for its effects. As you've seen with Harvey's devastating effects on Houston, preparation can only go so far when it comes to such strong forces of nature. The best that those facing a hit from Irma can do, unfortunately, is get out of the way as much as possible. While the storm is nothing that the Caribbean islands and the Florida coast haven't seen before, Irma still has the potential to be a truly damaging storm.